2013 Honda CR-V Introduction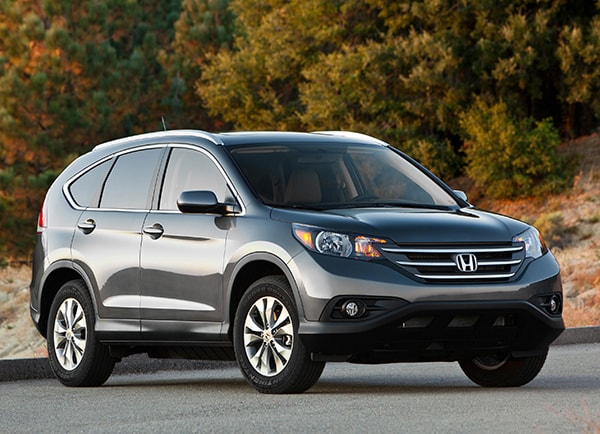 The current Honda CR-V is the fourth generation of Honda's popular and widely acclaimed compact SUV. Completely redesigned for 2012, the Honda CR-V carries over unchanged for 2013. First introduced in Japan in 1995, the CR-V was Honda's first SUV and, according to lore, is an acronym for Comfortable Runabout Vehicle. A four-door, five-passenger crossover, the CR-V is indeed comfortable and is quite useful for running about.
The Honda CR-V comes with many technology features that consumers expect nowadays, such as Bluetooth-enabled hands-free capability and streaming audio. The rearview camera is a multi-angle system that lets the driver choose between a top view and either a 130-degree or a 180-degree view. Automatic climate control, leather, heated front seats and a premium, 328-watt audio system with subwoofer and XM satellite radio are available. Optional on the top-of-the-line model is a GPS-based navigation system with turn-by-turn directions.
The Honda CR-V's 2.4-liter four-cylinder delivers 185 horsepower and 163 pound-feet of torque. Fuel economy is mid-pack for the class, with an EPA-estimated 23/31 mpg City/Highway on front-wheel drive models, and 22/30 mpg with all-wheel drive. An Eco-Assist setting helps with efficiency, which adjusts transmissions shift points and manages acceleration to save fuel. When a little more oomph is desired, Eco-Assist can be switched off.
Convenience features include hill-start assist, which applies the brakes when the car is stopped on an incline and releases them when the driver touches the accelerator. The clutch that sends power to the rear wheels on the AWD models has a pre-load function that prevents any initial slippage when moving off from a stop. On freeways and surface streets, the ride and handling is solid without being overly firm and stable with little body lean in corners even at elevated speeds.
Inside, pleasantly styled panels and trim pieces complement each other and show a consistent theme. Hard plastic surfaces are everywhere, however. Controls are functional and for the most part intuitive. The screen on the optional navigation system is large and easy to read, though the system takes a long time to start up. The low roofline reduces headroom. The rear cargo compartment is not perfectly flat with the rear seats folded.
Alternatives to the 2013 Honda CR-V include other small crossovers such as the Chevrolet Equinox, the recently redesigned Ford Escape, the Hyundai Santa Fe Sport, the sporty Mazda CX-5 and the Toyota RAV4.