2013 Honda CR-Z Introduction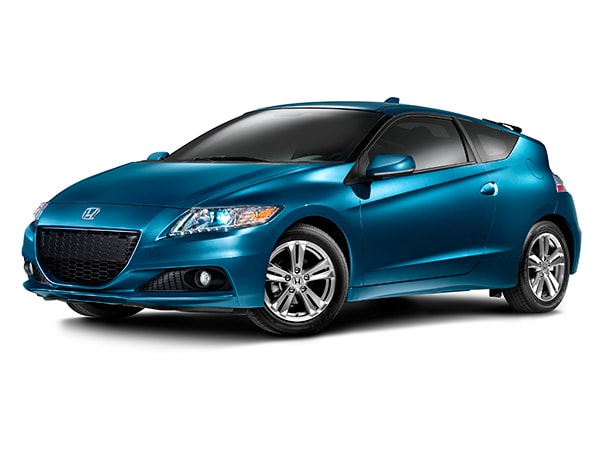 In a world of ho-hum looking hybrids, the 2013 Honda CR-Z attempts to infuse a little panache into an otherwise bland segment. Dubbed a hybrid sport coupe, the CR-Z is a compact hatchback that seats two.
For 2013, Honda CR-Z gets an updated look with a revised front fascia, new rear diffuser and new 16-inch alloy wheels, as well as some extra standard features. Underneath, a new lithium-ion battery pack and more powerful electric motor help to bump up horsepower and torque. 2013 CR-Z models also come with a new Plus Sport system, which gives the driver what's essentially a push-to-pass button. Pressing the S+ button will give the car an acceleration boost for five seconds, provided the car is going 20 mph or more and the battery is more than 50 percent charged.
The CR-Z is what's called a mild hybrid, pairing Honda's 1.5-liter four-cylinder engine with a 15 kilowatt electric motor. The electric motor is used to make the car go faster, but the CR-Z will not operate on purely electric power at low speeds like full-hybrid vehicles will. On the CR-Z, the electrification serves to boost acceleration like a turbocharger. This allows the use of a smaller, more-efficient engine, a less powerful engine.
Combined with the 144-volt battery pack, the CR-Z is good for a combined power output of 130 horsepower, up from 122 hp on the previous model. Torque is 140 pound-feet on models equipped with the six-speed manual transmission, and 127 lb.-ft. on models that use the continuously variable transmission (CVT).
EPA fuel economy ratings are slightly up for 2013. Cars equipped with the manual transmission get 31/38 mpg City/Highway, one mpg better on the highway. The CVT, meanwhile, is rated at 36/39 mpg City/Highway, up one mile per gallon in city driving.
The Honda CR-Z is about the same length and width as a Honda Fit, but CR-Z lacks Fit's function and practicality. Fit seats five. Cargo space in the CR-Z is vast, but storage space within arm's length of the driver is lacking. The CR-Z doesn't feel like a hybrid, especially not with the standard 6-speed manual transmission, and that's either a good thing or bad thing depending on your hybrid point of view.
The CR-Z can be set in Sport, Normal or Econ modes, which adjust throttle sensitivity, steering assist, air-conditioning usage and transmission programming on cars with the CVT, or additional electric motor assist on cars with the manual transmission.
Inside, the instrument panel is busy, with a dominant light-ring changing colors from green to blue to red depending on how hard you're driving. The dashboard is sculpted to be futuristic, and we wish more design time had been spent on being practical rather than cool. The cloth mesh seats are supportive with good bolstering, and the HID headlamps on the CR-Z EX are excellent.
There's a blind spot on account of the roofline, and visibility in the rearview mirror is restricted on account of the nearly flat roofline.
Competitors have sprung up since the CR-Z launched in 2011 that best the Honda hatch in spaciousness and efficiency. Toyota Prius C seats four, gets an impressive 53/46 mpg City/Highway, and starts at about a thousand bucks less. Ford has C-MAX, which is larger and a few thousand dollars more, but offers tons more space and is available in either a hybrid or a plug-in version. Non-hybrid hatches like Honda Fit and Mazda3 are also worth considering. If style and performance are your main concerns, there are the Fiat Abarth, Hyundai Veloster or Mini Cooper, which all offer distinct designs and good gas mileage. The CR-Z is a good choice if you like its sporty looks, but for practicality and value, we'd look elsewhere.