2013 Honda Civic Introduction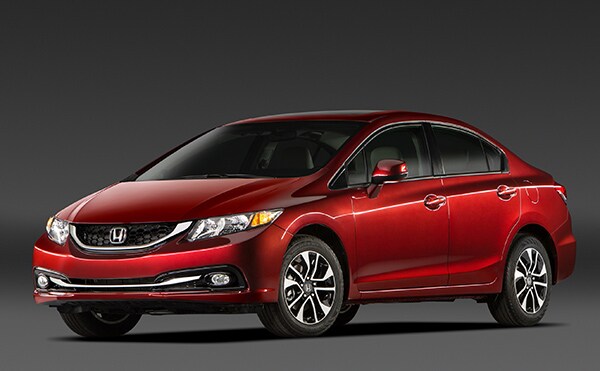 The Honda Civic began its ninth generation with the 2012 model, which was disappointing on account of cost-cutting. The 2013 Civic sedan is changed a bit, becoming what the 2012 should have been, with a pretty exterior, snazzy interior, satisfying suspension, and a cabin full of tricks from Bluetooth to Pandora.
The nose, hood, black honeycomb grille and angled headlamps are pleasing to the eye, with a humped hood and raked windshield that draw attention. The side sills are sculpted smartly, and with body-colored mirrors and door handles, the Civic looks classy, especially with the optional alloy wheels. The rear fenders flow nicely into a horizontal V over each side of the rear bumper.
In the cabin there's a ton of standard content, such as Bluetooth phone and Bluetooth audio, Pandora internet radio interface and MP3, USB, iPod and SMS text message capability. There's a nice color multi-information display (i-MID) with rearview camera.
The fabric upholstery is excellent, with seats that are well shaped, nicely bolstered and widely adjustable. The standard 60/40 split-folding rear seatback expands cargo capacity. We put a six-footer in the rear seat, and he didn't complain about legroom or headroom.
Interior refinements include a new headliner and soft-touch materials on the instrument panel, center console, and door panels. Silver accents here and there, along with faux stitching on the dashboard and door panels, add a touch of upscale. Black carpeting is standard. The colorful instrument backlighting is soothing.
Significantly, NVH (noise, vibration and harshness) has been improved over the 2012. More sound deadening material has been added to the firewall, wheel wells, flooring and trunk, while the windshield and front windows are thicker, all in the successful pursuit of silence. On the inside, the Civic neither feels nor sounds like a mere $20,000 car.
We found the i-VTEC 140-horsepower engine with its 128 foot-pounds of torque to be adequate. Acceleration performance is average but feels stronger because the engine is smooth and cabin quiet. The 5-speed automatic transmission is programmed to be invisible, while the ride is solid and comfortable. There's an Econ mode that remaps the engine and transmission for fuel mileage over power. We easily ran 75 mph in Econ and impressively got 32.1 miles per gallon.
The suspension has been reworked for 2013 with thicker anti-roll bars front and rear, quicker steering, and firmer bushings. The front subframe body structure is stiffer.The overall level of dynamic competence is hard to fault, predictable with no false moves.
If you want sporty, there's the Civic Si, with its high-revving 2.4-liter twin-cam four-cylinder making 201 horsepower and 170 foot-pounds of torque. We've had it on the track and its performance is marvelous.
There are also three high-mileage versions of the Civic. The Civic HF uses a specially tuned version of the same 1.8-liter engine to achieve an EPA-rated 29/41 mpg City/Highway, compared to 28/39 mpg for the Civic LX and EX. The Civic GX runs on natural gas, with its 1.8-liter SOHC 16-valve four-cylinder rated at 110 hp and 106 lb-ft of torque. It gets 27/38 mpg on the cheaper fuel. The Civic Hybrid pairs a 1.5-liter SOHC 16-valve four-cylinder engine rated at 110 hp and 127 lb-ft of torque with a 23-hp electric motor assist. Fuel economy is rated at 44/44 mpg. The bare bones and most affordable model, DX, has been discontinued: Dee-Xed.
New safety technologies built into the 2013 Civic include the application of the next-gen Advanced Compatibility Engineering II (ACE II) body structure, which includes additional front end structures designed to help increase occupant protection by dispersing crash energy in narrow overlap frontal crashes. Also new are SmartVent side airbags, side curtain airbags with a rollover sensor and the availability of Forward Collision Warning (FCW) and Lane Departure Warning (LDW) systems, which make their compact-class debut in the 2013 Civic Hybrid.