2013 Honda Fit EV Introduction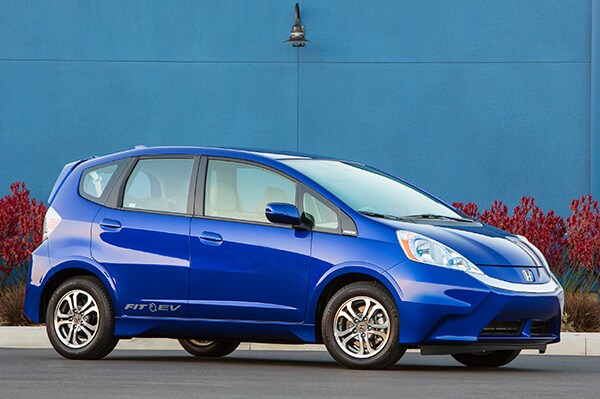 The Honda Fit EV electric vehicle is in most ways similar to the regular Honda Fit. Inside and out, it looks and feels like a Honda Fit. It's fun to drive, roomy and practical. This makes it one of the best all-electric cars available.
Look closer and Fit EV is distinguished by a unique front fascia, rear spoiler and lower fascia. A stripe around what looks like a fuel filler and its location near the tire suggests it's actually an electrical outlet. Special graphics declare it's a Fit EV.
Fit EV joined the lineup as a 2013 model. It's packaged similarly to a gas-powered Fit. The current-generation Fit was launched as a 2009 model, and the styling was revised for 2012.
We found the 2013 Fit EV fizzy, fun and fast. Fully charged, it will go 82 miles, according to the Environmental Protection Agency. Drive it to work, plug it into an outlet in your garage overnight, drive it to work again.
Fit EV can be charged by plugging it into a regular household outlet (a dedicated GFCI outlet is recommended). When connected to a 240-volt circuit, the Fit EV battery can be recharged in less than three hours. When connected to an outlet, charging can be started or stopped with an included Fit EV interactive remote control, through an available smartphone application, or through the internet on a personal computer.
But Fit EV is not available in most of the country, and it can only be leased. Launched in California and Oregon in July 2012, Fit EV is now available for lease in selected markets in Massachusetts, Connecticut, Maryland, New York, and New Jersey, according to American Honda. A three-year lease is $259 per month.
The Fit EV really scoots, particularly on winding roads. Completely silent, the electric motor launches it out of corners and propels it quickly up hills. The only sound will be that of the front tires chirping. Fit EV's brakes feel better than most electric-car regenerative brakes, much better than those on the Fiat 500e. Around town, Fit EV is easy to park and maneuver.
To help alleviate range anxiety, Fit EV's navigation system uses concentric circles around the car to show the driver the remaining range of the batteries in real time.
The Honda Fit is a roomy car. There's a lot of legroom in the front. Fit EV's seats are comfortable and supportive, good for zipping around corners. Lots of glass and big mirrors provide the driver with excellent visibility in all directions, including out the vertical and unobstructed rear glass. Cubbies and cupholders make everyday driving convenient.
Fit EV offers impressive cargo space. The second row of seats can be folded and flattened.