2013 Honda Fit Introduction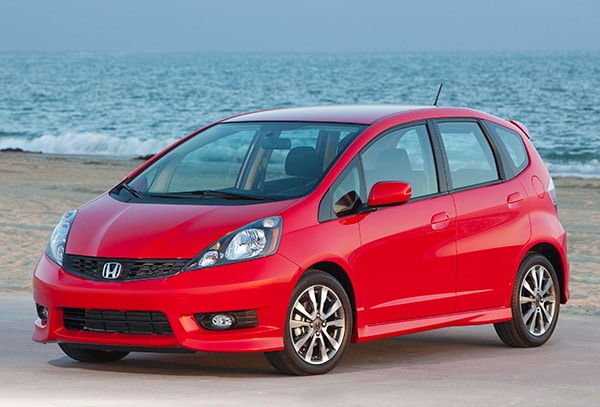 The Honda Fit is practical, economical, and roomy. It's also the most enjoyable to drive of the subcompacts.
New for 2013 the Fit EV electric vehicle joins the lineup. Otherwise, the Fit carries into the 2013 model year unchanged. The current-generation Fit was launched as a 2009 model, and the styling was revised for 2012.
Honda Fit's 1.5-liter engine is smooth and powerful, impressive for an engine that small. It's rated at 117 horsepower at a high-revving 6600 rpm, with 106 foot-pounds of torque at 4800 rpm. Yet there's always sufficient torque, that force that propels you from intersections and up hills.
Mated to a 5-speed automatic transmission with paddle shifters, it's an exceptional powertrain. The Honda automatic has a Sport mode that holds the transmission in gears longer when you're in Drive, and not using the paddles for manual shifting. This Sport mode is meant for sports car-like driving, which the Fit likes. The 5-speed manual gearbox, meanwhile, is tight and fun, with a clutch that's easy to use. We recommend it for driving enthusiasts. All models come with Vehicle Stability Assist (VSA).
Fuel mileage for the 2013 Honda Fit is EPA-rated at 28/35 mpg City/Highway with the 5-speed automatic, or 27/33 mpg with the 5-speed manual.
Underway, the Honda Fit feels like a bigger car, partly because the dashboard is long, to accommodate the raked windshield, and partly because there's so much legroom in the front, again thanks to that rake. Thanks to the expansive greenhouse and big mirrors, there's excellent visibility in all directions, including out the vertical and unobstructed rear glass.
With its wedge-shaped front end, the Fit has a presence that reaches beyond its subcompact status. Its size is just right for many drivers. It's easy to park and maneuver and inside is an amazingly configurable interior, helped by what Honda calls the Magic Seat. The second row of seats can be folded and flattened for carrying cargo, and the front passenger seat slides way forward and reclines way back, creating a long space from dashboard to liftgate that can hold a kayak.
The black cloth seats are wonderful, upholstered in a smooth comfortable material that's pleasing to the touch, and the bolstering is just right, with excellent cornering support. In fact, the seats would work in a sports car. Lots of cubbies and cupholders make everyday driving convenient. Rear legroom is roomier than that of the Toyota Yaris, Mazda2, and Ford Fiesta.
The Fit is relatively expensive among subcompacts. It's the best driver's car among these, so if you're a driving enthusiast, the Fit is the best choice. However, if purchase price is more important, then you should compare prices, features and equipment with the Mazda2, Ford Fiesta and Nissan Versa.
New to the Fit lineup for 2013 is the all-electric Fit EV. We found the 2013 Fit EV fizzy, fun and fast. But it's not available in most of the country. In fact, even in California and Oregon, the only states where the car is being marketed to date, it can only be leased, at a price of $389 per month over a three-year term, which computes to a Manufacturer's Suggested Retail Price (MSRP) of $36,625. Honda plans to lease only about 1,100 pearl-blue EVs through 2014, so you may not even be able to get one, although that could change. Availability will expand to the East Coast in early 2013, the company says.