2013 Hyundai Elantra Driving Impressions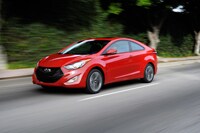 Its solidity and driving dynamics make the Hyundai Elantra feel fully competitive with anything in its class.
All models use a 1.8-liter, four-cylinder engine that makes 148 horsepower at 6500 rpm and 131 pound-feet of torque at 4700 rpm. (That's for the regular ULEV, or Ultra Low Emissions Vehicle. It's 145 hp at 6300 rpm in PZEV states).
Like most cars these days that make fuel economy a top priority, the vehicles in the Elantra lineup don't have a lot of oomph right off the line. This engine must be revved to get the most out of it, and it's fairly happy and unobtrusive doing so. Peak power is at 6500 rpm, though there seemed no point in going beyond 6300 to extract maximum performance.
The 6-speed manual is easy to shift, yet isn't too slushy. The 6-speed automatic is just as good, holding gears as needed in most driving applications. However, we found that on demanding uphill roads, the transmission often settled on a higher gear than we'd like, prompting us to slide the shifter over to manual mode to find sufficient thrust. For the GT and Coupe models equipped with the larger wheels and sport-tuned suspension, we'd like to see the addition of steering-wheel-mounted paddle shifters.
Electric-assist steering points the car where you want to go with minimal effort, reasonable feedback and U-turns in less than 35 feet. On GT models, a selectable steering feature allows drivers to choose between Normal, Comfort and Sport. In Comfort mode, the steering feels lighter at higher speeds but doesn't feel much different otherwise. In Sport mode, steering becomes more weighty, and almost too heavy when logging miles on twisty roads. Like Goldilocks, we weren't fully satisfied with any of the settings, and wished for a feel that was somewhere in between Normal and Sport. In addition, we found it odd that the Sport mode modified steering feel only; we longed for a true sport mode that combined steering adjustments with enhanced throttle response and shift patterns.
Disc brakes all the way around come standard on all models and are more than capable of slowing down anything the 1.8-liter engine gets going. Brakes feel a bit grabby at slow speeds, but require a firm, planted foot from highway velocities. Electronic stability control and antilock brakes are standard across the board, as is steering assist. The latter won't steer for you in case of a slide, but will help you steer in the correct direction.
The Elantra's structure is very stiff so the car feels solid, tight and squeak free. Suspension on the sedan is tuned more for ride comfort than outright speed, but it still does a commendable job on twisty roads and glides down the highway. The four door exhibits some body lean in hard cornering, but it remains controlled and makes the driver aware the car is working near its limits.
The Elantra Coupe and GT use a rear V-beam suspension, as opposed to the torsion beam setup found on the sedan. This makes for a stiffer chassis and reduces body roll (lean) around corners compared to the four-door version. Two-and five-door models equipped with the larger, 17-inch wheels are tuned for an even sportier feel. Although it's a little firm, it won't make your teeth chatter, either. Still, those who like a cushy ride might wish to stick with the traditional four-door. On the other end of the spectrum, enthusiasts looking for a two-door sports car might be more titillated by the Genesis Coupe, while those who want a utilitarian compact that's both practical and peppy might like the new Veloster Turbo.
EPA fuel economy ratings on the Elantra sedan are 28/38 mpg with both transmissions. During our test drive, the onboard computer showed a best of 40.3 mpg and a worst of 30.9 mpg in various traffic and terrain. Coupe models are EPA-rated at 28/38 mpg with the manual and 27/37 mpg with the automatic. The Elantra GT is rated 27/37 mpg with the manual and 26/37 mpg with the automatic.