2013 Hyundai Elantra Summary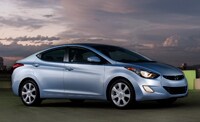 The Hyundai Elantra is among the best in the compact class with stylish exterior design, plenty of standard interior features and excellent fuel economy. The addition of a sporty coupe and a roomy GT model make the Elantra lineup even more desirable.
New Car Test Drive correspondents G.R. Whale, Mitch McCullough and Laura Burstein contributed to this report.