2013 Hyundai Equus Driving Impressions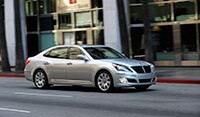 Drivers will find much to enjoy behind the wood and leather steering wheel and the unusual winged emblem found at its center. The combination of a very stiff structure, elaborate sound-insulating disciplines and an air-spring suspension produces an experience that is at once quiet, smooth and responsive.
The 5.0-liter V8 (which was new for 2012) provides ample power for merging and passing maneuvers, although it falls short of its German competitors when it comes to low-end thrust. As a total package, however, powertrain performance is equal to, if not better than, many of the Equus's rivals. The 8-speed transmission (also new last year) allows the car to spin at low revs for fuel economy's sake, but without seeming gutless. On the rare occasions where engine speed is too low for the driver's needs, it's reasonably quick to find a lower gear.
Of course, the shifts are made in keeping with the Equus's quest for refinement, and the avoidance of shift-shock is a big priority. If you need more response, the selector slips over into the manual slot and puts command back at the driver's right hand. It still takes a full-throttle, high-rev run for the redline to showcase the Tau's real strength, when the fairly hefty car displays an impressive surge of acceleration.
With multi-link suspension all around, the big Hyundai's chassis handles accurately, abetted by the Continental air-struts and the Sachs electronically controlled damping system. There's a driver-selectable Sport position, which subdues ride motions quite well without introducing much abruptness into the ride, but this is not really the kind of car one wants to fling around. It does very nicely with deliberate inputs at a brisk pace.
Hyundai's decision to adopt a hybrid electro-hydraulic steering mechanism was a good one. Utilizing an electric motor to drive a power-steering pump, it benefits from the energy savings enjoyed when cruising straight ahead with the motor at rest, and from the more natural feel of hydraulic assist once the electric motor has been summoned into action. Compared against even some fairly high-end nameplates with fully electric assist systems, the Equus has a far more organic sense to its steering.