2013 Hyundai Equus Introduction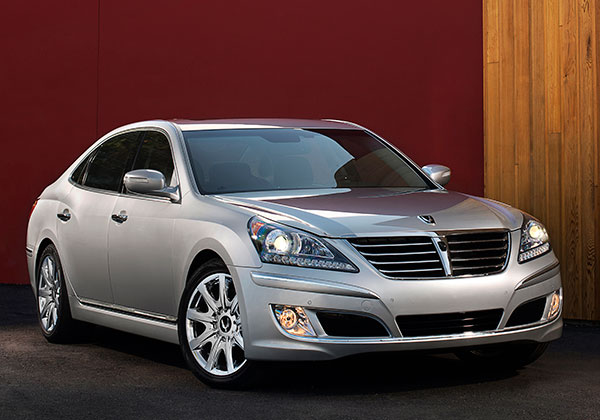 The Hyundai Equus is a large luxury car built on the same platform as the midsize Genesis sedan. Equus takes features and interior materials to the next level, with refined, sophisticated driving characteristics designed to appeal to prestige buyers looking for a roomy freeway cruiser. Like many other luxury cars, Equus is rear-wheel drive.
Power for the Hyundai Equus comes from a 5.0-liter V8 engine that makes 429 horsepower and 376 pound-feet of torque. Aided by an 8-speed automatic transmission, Equus achieves a EPA fuel economy rating of 18 miles per gallon Combined city and highway.
When the Equus launched two years ago, many scoffed at the notion that the Korean carmaker could produce a luxury sedan on par with the likes of BMW, Mercedes, Lexus and Infiniti. But time has proven that Hyundai's gamble is paying off. According to Hyundai, not only have Equus sales been on the rise, but residual values for 2011-12 models are higher than for many large German competitors. Considering the stratospheric panache permeating the luxury-car industry, that is a praiseworthy achievement.
At the very least, we'd say the Equus is a fantastic vehicle to move into from a lower segment. Although Hyundai likes to say that it competes directly with the much higher-priced Mercedes S-Class, BMW 7 Series and Audi A8, we don't necessarily see potential Mercedes or BMW buyers considering the Hyundai brand. But with a base price of less than $60,000, the Equus offers all the performance, refinement and amenities this class of car offers at considerably less money than the entrenched opposition. More realistically, we see the Hyundai Equus as a good alternative to the Lexus LS and Infiniti M.
Don't be fooled by the badge. The Hyundai Equus is the result of intensive engineering, tasteful design and intelligent use of supplier's technology. While it might be tempting for some to discount this car as a luxury wannabe with derivative styling and a copycat format, our experience inside the car tells us that Hyundai has closed in on the concept of fine car-making in a way that confirms there is no going back.