2013 Hyundai Genesis sedan Driving Impressions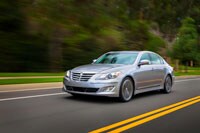 The Hyundai Genesis sedan strikes a good balance between comfortable and responsive. With the Genesis 3.8 is tuned to the more luxurious side, it's a good highway cruiser without feeling too billowy. The cabin is remarkably quiet, although rough roads do yield some noise and vibration. Handling in the Genesis 3.8 has the edge over the somewhat boaty Chrysler 300. Brakes are responsive and stop the car with confidence.
Acceleration in the Genesis 3.8 is smooth and satisfying, but it won't leave you breathless. The 8-speed transmission does an admirable job staying efficient while offering up adequate power. Not too long ago, that many gears would have seemed preposterous, but in the days of mandated fuel economy standards, automakers seem keen on ever increasing gear span in hopes to eek out an extra mpg or two (which usually means cruising at pitifully low rpm). Yet, in this case, Hyundai seems to have done a pretty good job with the power curve, keeping torque readily available at low engine speeds.
Moving from the 3.8 V6 to the 5.0 R-Spec V8 is a little like checking out of the Hilton and into the Mandarin Oriental. The former is perfectly nice, but the top-of-the line model makes us wish we could linger just a bit longer. And order room service. Acceleration is smooth as silk, and gears shift at higher rpm for and extra power boost. The sport suspension makes the Genesis sedan more agile around corners and lessens body roll at turn-in.
Fuel economy for the Genesis 3.8 is an EPA-estimated 18/28 mpg City/Highway on Regular gasoline. The 5.0 R-Spec is EPA-rated 16/25 mpg on Premium gas.