2013 Hyundai Genesis sedan Introduction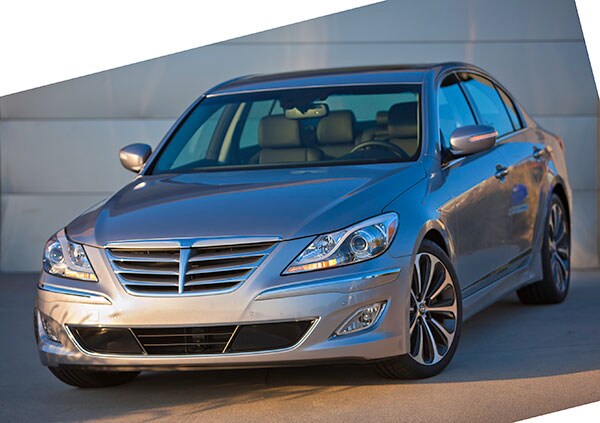 The Hyundai Genesis sedan offers smart styling, solid build quality and upmarket features at compelling price points. Genesis is rear-wheel drive, offers V6 and V8 engines and seats five.
The Genesis sedan was last redesigned for the 2009 model year. Genesis received a major upgrade for 2012, with revised styling, new direct-injection engines and a new 8-speed automatic transmission.
Changes for 2013 are more modest but still significant. The 2013 Genesis offers a new navigation option incorporating Bluetooth telematics. The mid-range, 4.6-liter V8 is gone, and the 5.0-liter V8 is now available only on the performance-oriented Genesis R-Spec model.
Equipped with the standard 333-horsepower 3.8-liter V6, the 2013 Genesis is rated at an EPA-estimated 18/28 mpg City/Highway, or 22 mpg Combined. Hyundai's 8-speed transmission offers manual shifting capability, dubbed Shiftronic. More gears, in addition to skip-shift technology, help to reduce emissions and improve fuel economy.
With its 5.0-liter engine, the 2013 Genesis R-Spec cranks out a class-competitive 429 horsepower and 376 pound-feet of torque. It's capable of a 0-60 mph time in just over five seconds while still achieving a respectable estimated 25 mpg EPA Highway rating. Genesis R-Spec also gets a sport-tuned suspension, steering and transmission along with 19-inch alloy wheels and unique headlamp trim.
The Genesis sedan is best compared with the Chrysler 300 and Buick LaCrosse. Features and performance, however, are on par with luxury models such as the Lexus GS, Lincoln MKS and Cadillac CTS. The 5.0 R-Spec proves to be a good contender with the likes of the Infiniti M56 at a much lower sticker price.
Also compelling is Hyundai's Assurance trade-in value guarantee, which assigns a future value to a vehicle at the time of purchase, based on a 24- to 48-month time frame. This guaranteed value can then be applied to a future Hyundai trade-in, as long as it's within the 24- to 48-month period. Even if the car is worth more than projected at the time of trade-in, the customer gets the higher amount.
Whether it's a true luxury car in the minds of buyers, the Hyundai Genesis in all its incarnations remains a top choice, both on paper and on the road.