2013 Hyundai Genesis sedan Walk Around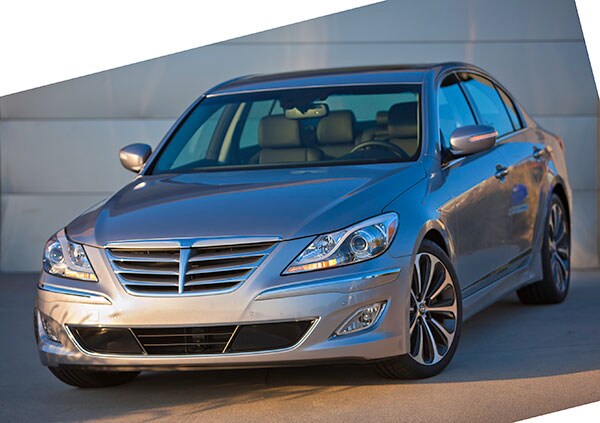 Surprisingly good looks set the Hyundai Genesis apart from its more affordable competitors. Fluid body lines and styling cues are reminiscent of higher-end luxury lines, yet remain distinctive.
Hyundai subtly but effectively freshened the exterior of the Genesis sedan for 2012, and all of those styling tweaks carry over to the 2013 model. Up front Hyundai jumped on the bandwagon with other luxury car makers by adding integrated LED accent lights (a la Audi), as well as a revised wraparound headlamp design. A modified front bumper sports a new air intake, while the redesigned front grille incorporates cleaner, straighter lines.
On the sides, a darker trim around windows aims to convey a more upscale feel, while more prominent rocker panels give a slightly more assertive look. A bright chrome molding further accents the rockers on R-Spec models. New side mirrors are reshaped and now include a power-folding feature and integrated puddle lamps.
In back, wraparound tail lights are more pronounced and the rear bumper features and integrated rear exhaust design, which lends a seamless, attractive appearance.
Interior
The cabin of the Hyundai Genesis sedan is elegant and tastefully executed. We took a Genesis 3.8 model for a spin in the Nevada desert and found the leather seats to be supportive and supple. Other leather trim, such as the wraparound two-tone dash gives the interior just the right touch of luxe. However, the wood grain trim looks more plastic than posh, especially around the doors.
The LCD gauges are bright and sharp, and are pleasing on the eye. Center stack controls are large and easy to read. Despite numerous buttons, layout is intuitive for the most part, although it takes a while to find certain functions. The mode button for the climate control, for example, is on the opposite side of the stack from the other HVAC buttons, which left us momentarily grasping at vents to direct cool air onto our feet in blazing 103-degree heat. Dual climate control worked nicely and the cooled, ventilated driver seat was a Godsend in the hot sun, although our front passenger was understandably put off that the feature was not included on both seats.
Due to the myriad buttons and knobs, there isn't much center storage space. Curiously, the small compartment between the shift lever and the center stack is dedicated to an ashtray and cigarette lighter, perhaps designed for the Asian market, since many U.S.-bound vehicles have long abandoned these (or make them available in a separate smoker's package). Using Hyundai's navigation system is less time-consuming than others on the market, although one passenger found it faster to punch up our destination on a Google Maps-powered smartphone.
Visibility is good, thanks to a large rear window, well designed side mirrors and minimally invasive B- and C-pillars. Front head- and legroom were more than adequate for drivers and passengers ranging from petite to tall, but in back, the head of one six-foot passenger nearly grazed the headliner while sitting behind the driver. And because the center seat is slightly raised, it's not an option for taller riders. Rear legroom is plentiful, as long as the front seats aren't all the way back.
Unlike many of its competitors, the Hyundai Genesis doesn't offer folding split rear seats, only a pass-through slot. Trunk space is average for the segment at 15.9 cubic feet.