2013 Hyundai Genesis Coupe Introduction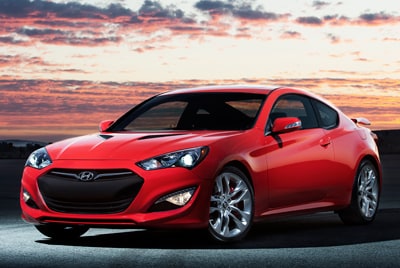 The Hyundai Genesis, now in its fourth year, is growing up. This affordable, good-looking rear-wheel-drive sport coupe gets a refresh for 2013, including a redesigned front end, more powerful engines, a new 8-speed automatic transmission and a longer list of standard features.
The most significant update is under the hood, where a choice of two engines and a larger intercooler help to achieve even more power. The 2.0-liter turbo four-cylinder that comes standard in the 2013 Hyundai Genesis Coupe gets a 30-percent horsepower jump to 274 hp. The V6, which is now direct-injected for better efficiency, goes from 306 hp to 348 hp.
The 2013 Genesis Coupe is available with a new 8-speed automatic transmission with paddle shifters, which replaces the previous 6-speed automatic. A 6-speed manual gearbox carried over from the previous model remains available.
A retuned suspension goes along with the 2013 Genesis Coupe, as well as improved handling in the form of sharper steering.
While gains in power are impressive, improvement in fuel economy is modest. Even with the new 8-speed automatic, fuel economy improves by only one mile per gallon in most cases. The 2013 Hyundai Genesis Coupe 2.0 gets an EPA-rated 21/30 mpg with 6-speed manual, 20/31 mpg with 8-speed automatic. The V6-powered 2013 Genesis Coupe 3.8 is rated 18/27 mpg with 6-speed manual, 18/28 mpg with 8-speed automatic. All models require Premium gasoline.
In the cabin, the 2013 Hyundai Genesis Coupe gets a redesigned center stack and gauges, including electroluminescent lighting. The steering column now offers a telescoping adjustment, which is a welcome addition for those drivers who are particular about exact steering wheel placement. Hyundai's BlueLink telematics system is now offered on upper trim levels, which offers voice text messaging, turn-by-turn navigation and monthly vehicle reporting, and can be compared to General Motors' OnStar service.
Along with these upgrades in power and features is a jump in price. Buyers will have to shell out $2,000 more for most 2013 Genesis Coupe models, and more for high-performance trims. But despite its higher price, this sport coupe still remains a great bang for the buck.
The Hyundai Genesis Coupe is a stiff competitor to the American pony cars: the Ford Mustang, Chevrolet Camaro and Dodge Challenger. Hyundai's rear-wheel-drive platform also makes it a toothier alternative to the Mazda MX-5, a perennial spec-racing favorite. While the Genesis Coupe is still a top choice in this segment, more competition has come with the introduction of the Scion FR-S and Subaru BRZ.