2013 Hyundai Sonata Introduction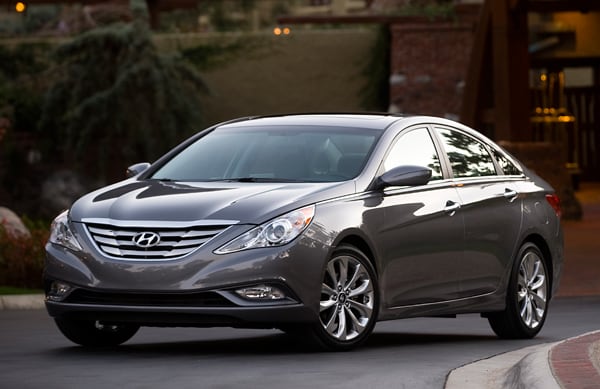 The four door Hyundai Sonata accommodates five passengers in fine style and more than holds its own with the Honda Accord, Toyota Camry, Chevrolet Malibu, Ford Fusion and other mid-size sedans. Sonata delivers excellent quality in all of its iterations, with great manners, fuel efficiency and features, all at a competitive price. Sonata was completely redesigned for the 2011 model year.
The 2013 Hyundai Sonata gets an updated navigation system and slight adjustments to the standard feature list, depending on the model. The biggest news may disappoint driving enthusiasts, however: Unlike last year, the 2013 Sonata is not offered with a manual transmission.
The 2013 Sonata comes in four models, including a hybrid that can be driven at highway speeds in full electric mode and an available turbocharged engine that is one of the most powerful in this class but still delivers excellent fuel mileage.
Sonata's styling is busy for our taste and not as clean as its corporate sibling, the Kia Optima. Many other critics have praised Sonata's look, however, and if it's confused with any other sedan, it's more likely to be mistaken for a Lexus or some other luxury model than for another mainstream mid-size.
Inside, features, materials and fit and finish are among the best in the class, especially in build quality and tolerances.
The 2013 Sonata lineup starts with the Sonata GLS, which retails for about $21,000 and comes with a full complement of power features, cruise control, Bluetooth connectivity and more power than other cars in its class. Another $825 adds heated front seats, automatic light control, fog lights and 16 inch alloy wheels. The mid-range Sonata SE satisfies sporty tastes with a firmer suspension and sharper steering, while the Limited comes nearly loaded, with full leather, dual-zone automatic climate control and audio upgrade, starting at about $26,000.
Sonata's standard 2.4-liter four-cylinder delivers 198 horsepower (190 hp in states using California emissions regulations), or 200 hp with a dual exhaust system in the Sonata SE. It's substantially more powerful than the base engine in competitors, but it runs neck and neck in the Environmental Protection Agency's fuel economy ratings, matched to a smooth shifting, well programmed 6-speed automatic transmission.
Sonata's upgrade engine led a trend in this class, eschewing a larger V6 for a smaller, efficient turbocharged four-cylinder. The 2.0T, as Hyundai calls it, satisfies America's perceived need for speed with 274 horsepower and excellent acceleration on regular-grade gas. Yet it's EPA-rated 33 mpg Highway.
The Sonata Hybrid features a full parallel hybrid system allowing the car to be driven on its 40-hp electric motor at speeds up to 62 miles per hour. While such an occurrence will be rare in the real world, the Hybrid's blended gas-electric operation still improves fuel economy, with higher mileage ratings than similar hybrids from Honda and Toyota. Moreover, while the other hybrids in this class have a gearless, continuously variable transmission, the Sonata Hybrid gets the same 6-speed automatic as the other Sonata models. It drives and sounds like the cars most of us know, with actual upshifts and downshifts instead of virtual gear changes created by computer software.