2013 Hyundai Tucson Introduction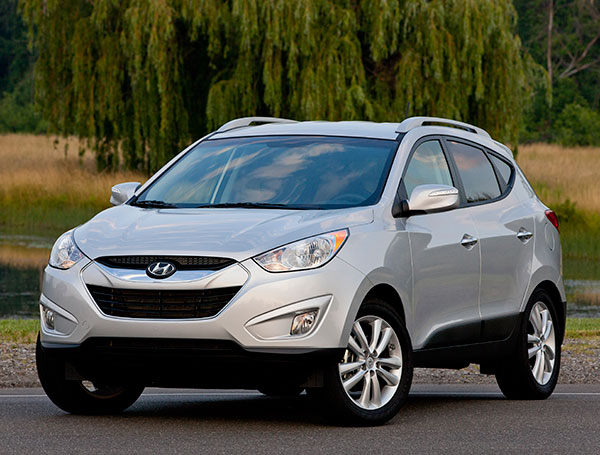 The Hyundai Tucson is a compact crossover SUV that delivers responsive performance and good fuel economy. It's roomy, comfortable cabin makes it easy to live with. A choice of engines is available.
2013 Hyundai Tucson models get more standard equipment than before. The 2013 Tucson GLS comes standard with fog lights, automatic headlight control, and heated front seats; the 2013 Tucson Limited gets proximity-key entry with push-button starting. Tucson was last redesigned for the 2010 model year; for 2012, Tucson benefitted from bigger brakes, improved air conditioning, a smoother ride, and other improvements.
The 2013 Hyundai Tucson begins with the value-priced, front-wheel-drive Tucson GL. Powered by a 165-horsepower 2.0-liter four-cylinder engine, the Tucson GL rates an EPA-estimated 20/26 mpg City/Highway mpg with its standard 5-speed manual transmission, and 22/29 mpg with optional 6-speed automatic.
Tucson GLS and Tucson Limited models are offered with front-wheel drive or all-wheel drive. Power is provided by a 176-horsepower 2.4-liter engine. Hyundai's superb 6-speed automatic is standard, and comes with a driver-selectable Active Eco mode, which modifies the response of the engine and transmission to changes in throttle position. Hyundai says this can yield as much as a 7-percent gain in real-world fuel economy. EPA ratings for the 2.4-liter Tucson with Active Eco are 21/30 mpg City/Highway with front-wheel drive. Low-rolling-resistance silica tires contribute to those numbers.
Inside, the cabin is a model of straightforwardness and simplicity. It's excellent ergonomically, meaning everything is easy to reach and operate. The materials are nice. The seats are supportive and comfortable. There's plenty of room in both the front and rear seats, with comfortable seating for four, capability for five.
Though Korean, the Tucson design is decidedly European in flavor, sporty and aggressive, capturing the crisp, agile look for which German styling studios are famous. Tucson skillfully tricks the eye, to its benefit. Just as the huge Audi Q7 manages to appear smaller and more athletic than it is, the Tucson does just the opposite. Its high beltline and squinty side-window configuration make the Tucson appear larger and more capacious than it really is. This may give the buyer a feeling of getting more for the money.
In short, the Hyundai Tucson is a well calculated vehicle that delivers roomy interior space, crisp performance and very good fuel efficiency.
Hyundai Tucson competes with the Toyota RAV4, Honda CR-V, Ford Escape, Mitsubishi Outlander Sport and other compact SUVs.