2013 Jaguar XF Introduction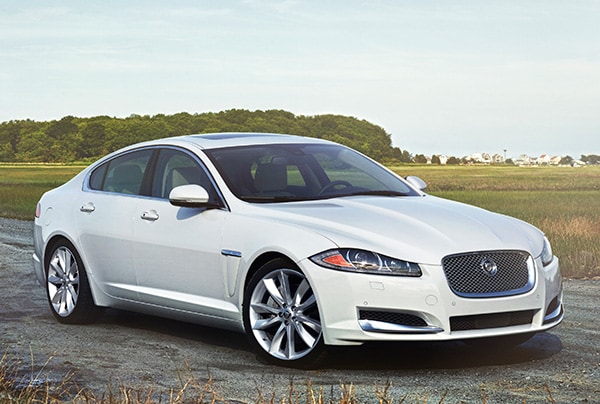 The Jaguar XF is a solid, stylish sports sedan about the size of a BMW 5 Series. The Jaguar has elegant, flowing lines, more interesting than those of the BMW, and the XF has presence, that intangible quality that allows it to stand out in any line of similar luxury sport entries. Underway, the Jaguar XF is smooth, quiet, and comfortable. With a range of powerful engines, the XF delivers strong performance along with responsive handling. As with most sports sedans, the Jaguar XF uses rear-wheel drive for sporty handling and serious performance.
New for the 2013 Jaguar XF, however, is the option of all-wheel drive. All-wheel drive makes the 2013 Jaguar XF 3.0 AWD a compelling choice for driving over snow and ice.
The 2013 Jaguar XF lineup also features new engines and a new 8-speed automatic transmission that improve fuel efficiency.
Four engines are available for the 2013 Jaguar XF, all blown: an impressive new turbocharged 240-hp 2.0-liter inline-4; a superbly powerful and efficient new supercharged 340-hp 3.0-liter V6; a supercharged 470-hp 5.0-liter V8; and a supercharged 510-hp V8. All are outstanding in their own way and all come with new ZF 8-speed automatics.
Jaguar's new Instinctive All-Wheel Drive system brings needed winter capability to the lineup in the form of the 2013 Jaguar XF 3.0 AWD. According to Jaguar North America, 82 percent of luxury cars in the northern two-thirds of the U.S. are currently sold with four-wheel drive. Canada also needs AWD. Jaguar's Instinctive All-Wheel Drive is a fully automatic on-demand system that engages instantaneously when needed and provides a slight rearward bias carefully tailored to suit Jaguar's traditional chassis and handling tastes. All other XF models use traditional rear-wheel drive.
The new supercharged V6 that comes with the 2013 Jaguar XF 3.0 AWD as well as the rear-wheel-drive Jaguar XF 3.0 delivers 340 horsepower. That's 45 horsepower less than the normally aspirated 385-hp 5-liter V8 it replaces, but its performance is far from disappointing, and the new V6 improves fuel economy to an EPA-estimated 28 mpg Highway. On V6 and V8 models, automatic engine start/stop is standard, enhancing fuel savings around town.
The new 240-horsepower 2.0-liter turbocharged four-cylinder that comes on the 2013 Jaguar XF 2.0 returns an EPA-estimated 30 mpg Highway, and lowers base MSRP for the 2013 Jaguar XF to $46,975. The turbocharged four has a wonderful, throaty engine note, and its 240 horsepower propel the XF with real enthusiasm. Two liters or not, it's a true Jaguar.
We found the new ZF 8-speed automatic sequential transmission, present in all 2013 Jaguars, to be excellent. Manipulated with paddle shifters, the 8-speed delivers lightning-quick shifts and, within reason, gives you the shifts you command when you command them. It's yet another example of Jaguar's respect for the driver's judgment.
For 2013, Jaguar continues to offer two wickedly speedy 5.0-liter V8 XFs: the Jaguar XF Supercharged with 470 horsepower and the Jaguar XFR with 510 horsepower.
One of Jaguar's most winsome traits is its resistance to technology for technology's sake, as found at BMW, Mercedes-Benz, and Audi. Jaguar's strategy, instead, is to reduce complexity to benign usefulness. Instead of being needlessly confusing, driving one to the Owner's Manual, the primary precepts of the XF's controls are convenience and usability. One exception is the JaguarDrive Selector pop-up knob for selecting gears, but it's more straightforward than BMW's electronic gear selector.
The Jaguar XF interior is dignified but a good bit plainer than the deluxe XJ. Upon entering and pushing the Start button, the HVAC dash vents scroll open and the JaguarDrive knob pops up to greet you. The leather seating is all you could ask of a luxury sport sedan, and the driving experience ahead in this very adult English sedan is a thing to be looked forward to.