2013 Jaguar XF Summary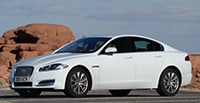 If you seek a sport luxury sedan that will stand apart from the hordes of Audi A6s, BMW 5 Series, Mercedes E-Class, and Lexus GSs on the street, a Jaguar XF is worthy of your consideration. It has performance, reliability, capability, comfort, and a unique presence that sets it apart from the crowd. But above all, the winsome driving experience of this Jaguar, whether commuting in town at midweek, or flying through the country on weekend, may convince you that it has style and charm few fine sedans can match.
NewCarTestDrive.com correspondent Ted West reported from Quebec, with Sam Moses reporting from Portland and J.P. Vettraino in Detroit.