2013 Jaguar XJ Introduction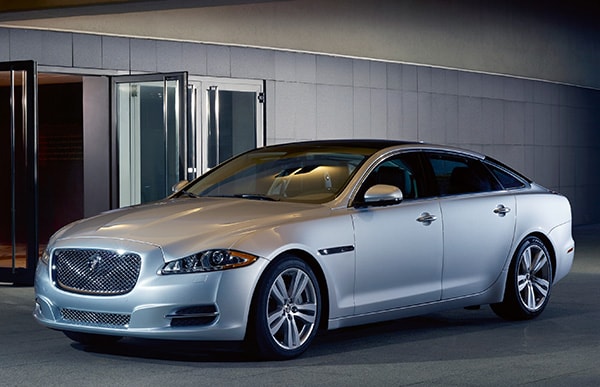 The Jaguar XJ arrives in style everywhere it goes. Its sleek design presents a statement of true luxury. Underway, it coddles passengers yet provides thrilling performance for the driver. We found the Jaguar XJ a harmonious balance of spirited performance, smooth operation, and poise.
New for the 2013 Jaguar XJ lineup is Jaguar's Instinctive All-Wheel Drive along with a new supercharged 3-liter V6.
A choice of 5-liter V8 engines remains available. The 2013 Jaguar XJL Portfolio comes with a powerful, velvety-smooth 5-liter V8 rated at 385 horsepower. The Jaguar XJ Supercharged and XJL Supercharged are powered by a supercharged 5-liter V8 of 470 horsepower. And for those who simply don't have time, there are the ICBMs of the line, the Jaguar XJ Supersport, XJL Supersport, and XJL Ultimate, all powered by a 5-liter supercharged V8 generating a full-speed, no-excuses 510 horsepower.
All-wheel drive makes the 2013 Jaguar XJ AWD a compelling choice for winter driving in the Snow Belt. Our test drives in both dry conditions and Canadian ice and snow found Jaguar's all-wheel-drive arrangement fully a match for its German competitors. (All-wheel drive is only available with the new V6.)
The V6 is a thoroughly qualified full-time, all-season engine that delivers splendid performance, while cruising at a salutary EPA-estimated 25 mpg Highway. We found throttle response linear and enthusiastic.
The normally aspirated 5-liter V8 in the XJL Portfolio is smooth and powerful, a superb powerplant, capable of thrusting the XJL to 60 mph in a very quick 5.4 seconds. It also delivers an EPA-rated 25 mpg Highway. All-wheel drive is not available with the V8-powered XJs, which remain the classic Jaguar rear-wheel-drive muscle-car sedan.
The Supercharged models launch from 0 to 60 mph in just 4.9 seconds and deliver an EPA-estimated 23 mpg Highway. The top-of-the-line Supersport models catapult to 60 in a scant 4.7 seconds, still rating 23 mpg Highway.
Arriving in style, perhaps with a hint of majesty, is the XJ's greatest strength, but the big Jaguar is nowhere more in its element than on the highway at speed. This is a grand touring sedan carefully tailored to make no-nonsense rapid travel effortless, comfortable and pleasing to both driver and passengers. There is an almost old-fashioned finesse to the XJ, yet nothing is old-fashioned about the technological means by which it is achieved. Jaguars have always been road cars, with a distinctly sporting character, intensely focused ride quality and willing agility. While many large cars make long drives dull, drowsy, and fatiguing, an XJ's alert and alive character, with its live-wire feedback, act as a strong safety element, keeping the driver fully engaged in the act of driving.
Steering effort and live feel is finely calibrated to deliver an excellent combination of road information and firm controllability. The car's chassis dynamics are similarly alive, whether driving on snow with all-wheel drive or pressing hard in high summer. And despite considerable weight, the XJ's brakes are forceful, easily modulated for good control, and even under very hard use show no hint of brake fade.
The current-generation Jaguar XJ was launched as a 2011 model.