2013 Jaguar XJ Walk Around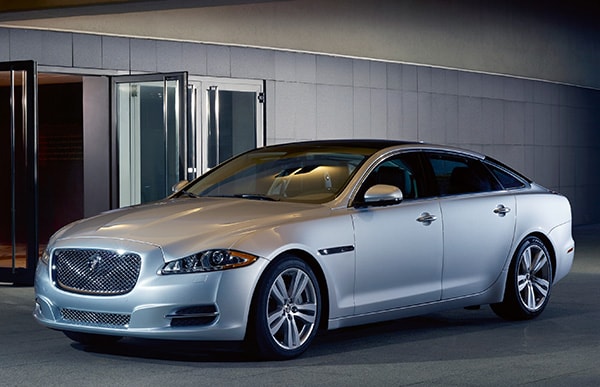 Even at their lowest ebb a couple of decades back, when they were assembled with complete incompetence and scandalously unreliable, Jaguar sedans have always been like a Hollywood diva who can't say no to strong drink and pills. However deplorable the facts, Jaguars always been heartbreakingly, irresistibly beautiful.
The present line of XJ is every bit as irresistible, but it would be wildly irresponsible to imply that Jaguar's dark past any longer applies. Their beauty, no longer a snare, is today a joyous, trustworthy asset, accurately representing the reliable integrity lying beneath. This modern XJ diva has all her seams straight, knows her lines, and is so gorgeous that you'd give her an Oscar just for letting you look at her.
Riding on two lengthy wheelbases of 119.4 inches for the XJ and 124.3 inches for the XJL, with overall lengths of 201.9 inches and the deluxe 206.8 inches, this is a large touring sedan, out-spanning its luxury-sedan competitors, while out-styling them in the same swift gesture. It has a sleek shape, with muscular faux-coupe modeling that cunningly understates its size. You don't realize just how large the XJ, or especially, the long-wheelbase XJL, is until you're standing immediately next to it. Climbing into the cavernous XJL rear seat, it's hard to remember that such a huge car actually looked fast from outside. Beautifully done. The British are often thought of as stiff, but putting this feline Jaguar next to a BMW 7 Series, a dowdy Lexus LS, a big Mercedes, or even the much-admired Audi A8 makes them look like blocks of cheese.
From its bold grille back to its steeply raked windshield, the XJ forms a long, graceful curve slicing irresistibly through the air. The roof tapers gently rearward to a long fastback, enclosing the greenhouse and large luggage compartment. Blacked-out B-, C-, and D-pillars give the entire greenhouse a low, compact look. Visually, these elements reduce the overall size of the car. Combined with the XJ's nose-down, haunches-up lunging stance, at a distance it appears to be a much smaller sport coupe. On closer examination, it's a shock that this is a fully found grand-touring vessel of style, power and great speed.
Interior
Stepping into the Jaguar XJ is every bit as satisfying as its elegant exterior suggests. Jaguar sedans are richly supplied, as always, with fragrant leather and handsome inlaid wood trim. They have a distinctly boardroom feel: mature, handsome, businesslike, with none of their furnishings erring in the direction of excessive or showy complexity. The audio, navigation and climate-control instrumentation performs the same functions as in Jaguar's German counterparts, yet Jaguar systems are blessedly intuitive; operating them, the Owner's Manual stays in the glove box. They are prime examples of good ergonomics, a phrase German interior-systems wonks have all but forgotten.
Even the dashboard layout itself, while delivering the conventional information, does so in an efficient, pleasing way. A 12.3-inch high-definition screen projects a virtual analog speedometer, tachometer and related data in three dial faces, but these electronic instruments serve double duty. When fuel is low or the car needs to communicate other important information, a bulletin is communicated in the space occupied by the temporarily dimmed tachometer. (And honestly, in these days of electronic engine management, monitoring a tachometer is far less vital than it once was.) The font for these central dials, while small, is businesslike and properly legible.
Traditional Jaguar aero-like blower ducts above the center stack flank a handsome analog clock. Beneath these, an 8-inch touchscreen display provides access to such operational matters as climate control, outside connectivity and the fine standard Meridian high-end audio, comprising a 380-watt system of 14 speakers, including two subwoofers. The XJ Media Hub also delivers connectivity through two USB ports, Bluetooth audio streaming and an auxiliary input jack. Also available is the still more powerful Meridian 825-watt surround sound system with 15 channels and 20 speakers.
The XJ navigation package, elegantly simple and graphically pleasing, adds some convenience features drivers will appreciate. Approaching an intersection, Dynamic Zoom automatically magnifies the upcoming intersection to define lane choices. Similarly, the Road Sign Board displays overhead road sign information and lane preferences as you approach. A minimum of steps is necessary to set a destination, and entering Points Of Interest data has been made easier than in previous iterations. This is a highly successful navigation system that virtually anyone will find useful.
As has long been the case with Jaguar sedans, the seating and visibility of the XJ are excellent. The front seats have vast adjustability, and their firmness and side-bolster fit are a model of one-size-fits-nearly-all common sense. Long drives in an XJ are an experience to be anticipated with pleasure. Rear-seat dwellers also have nothing to fear, especially in an XJL; the vast acreage back there encourages sprawling out full length and eating grapes Roman-style.
Though the beltline of the XJ is relatively high around its occupants, thanks, in part, to generously sized side-view mirrors, outward visibility from the driving position never feels restricted.
The XJ trunk will welcome masses of luggage; no need to skimp traveling in this car.