2013 Jaguar XK Introduction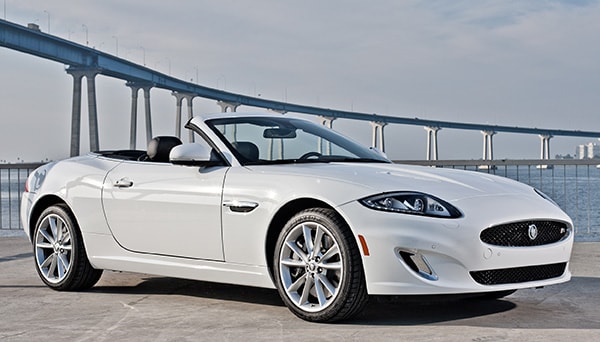 The Jaguar XK traces its roots back to 1948 with the XK120. Touted as capable of 120 mph, the XK120 was an immediate hit and Clark Gable bought the first one that went on sale. This quest for speed continued with the XK140, XK150 and XK-E among them and is celebrated by the current lineup: The 2013 Jaguar XK lineup is the fastest and most advanced in Jaguar history.
For 2013, the Jaguar XK lineup includes a new Touring trim level with a simplified package we think will satisfy the needs of many drivers and save them a good deal in the bargain. The 2013 Jaguar XK Touring Coupe and Convertible are furnished with the same pleasingly powerful V8 and 6-speed automatic transmission found in the other models, so performance is not penalized in any way. Far from stripper models, the new XK Touring models are lavishly furnished with leather upholstery, Satin Rosewood veneer, heated front seats, a premium sound system with satellite radio, keyless entry and start, reverse camera and parking sensors, auto-dimming power folding mirrors, a multi-function steering wheel, 19-inch alloy wheels and an Aero pack.
The 2013 Jaguar XK is available in three levels of tune, each in coupe and convertible body styles. Jaguar XK models are powered by a 5.0-liter V8 that produces 385 horsepower and 380 pound-feet of torque. Jaguar XKR models feature a supercharged version of the same engine, with 510 horsepower and 461 pound-feet of torque. Jaguar XKR-S Coupe and XKR-S Convertible feature a 5.0-liter supercharged V8 engine that churns out a breathtaking 550 horsepower and has a top speed of 186 miles per hour, making the XKR-S the fastest production Jag ever. A Jaguar XKR-S can leap from 0-60 mph in 4.2 seconds.
In our test drives, we found the Jaguar XK models feel solid and stable even at very high speeds. Ride quality is tough to fault, with an Adaptive Damping System automatically adjusting for ride comfort when cruising along or tightening it down for hard cornering.
All models come with a 6-speed automatic with paddle shifters we found smooth and tight with rev-matching downshifting. The standard 385-hp V8 has plenty of power, while the supercharged versions move the XK into supercar territory. Indeed, we found the XKs, the XKR and XKR-S, to be vastly more than boulevardiers. They're beautiful, elegant, but above all, forceful, sports cars. They are in the best Jaguar tradition, cars that get the very most from the marque's long-established front-engine, rear-wheel-drive format. Like their market competitors, they're not cheap, but for the driver who wants something unusually fine, they're fully worth their ticket.
Fuel economy is an EPA-rated 16/24 mpg City/Highway for the XK Coupe, while the XK Convertible is rated 16/22 mpg. The supercharged XKR and XKR-S coupe and convertible models are rated 15/22 mpg.
The Jaguar XK runs against tough company. The new Porsche 911 elicits complaints centering around it's being too good. But with a few options, the 911 gets pricey. The 2013 Mercedes-Benz SL-Class rivals Jaguar in technology and good looks, but its roadster-style seating leaves backseat occupants out in the cold. The XK or XKR are closely matched in price and performance by the BMW 6 Series and Mercedes-Benz E-Class coupe.
The Jaguar XKR-S competes against supercars such as the Audi R8, Mercedes SL65 AMG, Chevrolet Corvette ZR1, and Nissan GT-R. The XKR-S features an exterior design focused on aerodynamics, with stability at speed and reduced drag of primary importance. Production of the XKR-S for 2013 will be limited to 100 coupes and 100 convertibles, according to Jaguar North America.
The XK chassis was introduced for the 2007 model year, but it's still cutting edge. New engines were introduced for 2010, and the convertible joined the lineup for 2011. The styling was revised and the XKR-S added for 2012.