2013 Jeep Wrangler Driving Impressions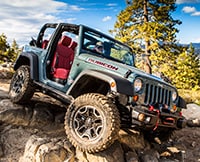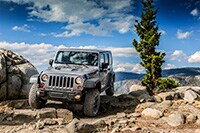 We got opportunities to gather driving impressions in a number of Wranglers, from the Unlimited in SUV-like surroundings, to the Rubicon on rock-climbing trails, and the Sport on fast backroad two-lanes at night.
The Wrangler Unlimited Sahara, ours resplendent in rich brown with dark leather, is almost astonishingly smooth and quiet, totally civilized, thanks hugely to the 3.6-liter V6 engine. The 5-speed automatic is well-behaved, and doesn't hunt for gears; it uses the gear it's in. It was designed for use with Chrysler's 5.7-liter Hemi engine, now refined for the Pentastar V6, but still Jeep-like industrial strength. Most Wrangler Unlimiteds can tow 3500 pounds, others are rated to tow 2000 are are the two-door Wranglers.
The Unlimited corners well, and head sway on weaving roads is light. You can only do so much with a solid axle and tall body, countered by a stability and vertical climbing friendly long wheelbase like that of a short-bed, regular cab full-size pickup.
The Unlimited's 116-inch wheelbase is 10 inches more than a Nissan Xterra. What's good on the highway is not the best for maneuverability and the Unlimited doesn't turn nearly as well as a Wrangler. It also drags high points earlier, the Unlimited's breakover angle no better than a Land Rover LR2 cute ute. The twitchy handling that lingers in the Wrangler because of its short 95-inch wheelbase is not present in the Wrangler Unlimited. The first pleasant surprise of the Unlimited: it doesn't feel like a Jeep.
With 285 horsepower you think a Wrangler should feel more powerful, and accelerate faster. We ran a lot of high-speed two-lane miles, and our Wrangler had to work, using momentum to pass. Weight and aerodynamic resistance take their toll, and with a Rubicon four-door heavier than a 470-hp Dodge Charger and sleek as a phone book, acceleration rates quickly fall off as speed increases. Most mud- and all-terrain tires aren't designed for West Texas or Montana speeds, either.
For serious trail adventures the Rubicons are ideal, but we got a Moab Unlimited through Elephant Hill (rated 5 on a 1-10 scale) on street tire pressure with no issues. As things get nastier in a Rubicon you push a button to disconnect the splined front stabilizer to allow more lateral articulation at the wheels. If it gets worse, press another button to lock the rear differential, and if gets harder still, lock the front differential as well.
In many low-speed trails the best technique is to take your feet off the pedals and just steer. At idle in Low Range, a Rubicon powers up and over obstacles that would totally stop most vehicles; even though torque peaks up at 4800 rpm, it plugs along like a tractor. This is because of the Rubicon's unique transfer-case low-range gearing of 4:1. With a manual transmission in first gear the overall gear reduction is 73:1 (53.6:1 automatic), as opposed to 10:1-12:1 in the average car, for maximum torque at baby-crawling speeds.
Our Rubicon scarcely broke a sweat over rocky trails that would turn back all but the ruggedest and hardest-climbing of vehicles. We ran support for a 50k trail run in the Columbia River Gorge, over two 3500-foot peaks in Washington's Cascades, and it was a hard 12-hour day. "In my old Jeep, I would have been in misery, dying to get out," said our navigator. "But I could ride all day in this Jeep."
On the highway at 70 mph the Wrangler can be a bit twitchy. Hopping out of an Unlimited as we did where the twitchiness is absent, the twitch in the short-wheelbase Wrangler is heightened. But as soon the driver adjusts, the turns and corrections come more smoothly. When the Wrangler is pointed straight and steady, it stays that way. Much of this is relative to tires and pressure; a 10th Anniversary's E-rated tires would work on a 3/4-ton pickup truck.
There's a big difference in how stable the Wrangler feels with the top on and off, but little change in actual stability. With T-tops removed, at 65 mph it beats you up; but with the top on it feels smooth at 75 and beyond.
Keep in mind that the Sport, Sahara and Rubicon models have different tires, shock absorbers, and gearing and this changes their character significantly. On the highway or the trail. Choose your Wrangler for the type of driving you'll be doing.
The Wrangler is no gas-mileage champ. Wrangler is EPA-estimated at 17/21 mpg City/Highway; Unlimited is rated 16/20 mpg. Expect teens on the pavement and down below 5 mpg on the trail or sand dunes. Our Unlimited did 18 mpg on mostly pavement, a Rubicon 10th Anniversary was averaging 11 mpg over a 70-mile pavement drive and 9 hours on the trail. Of course, fuel economy on the trail will be poor in any car.
The 6-speed manual transmission, German-made, isn't as easy to drive as the 5-speed automatic, American-made. The 6-speed has relatively long clutch and shift travel for a car but typical for a truck. Your driving style will affect economy far more than choice of transmission, but the manual is less-expensive and has a far superior crawl ratio for trail use.