2013 Jeep Wrangler Introduction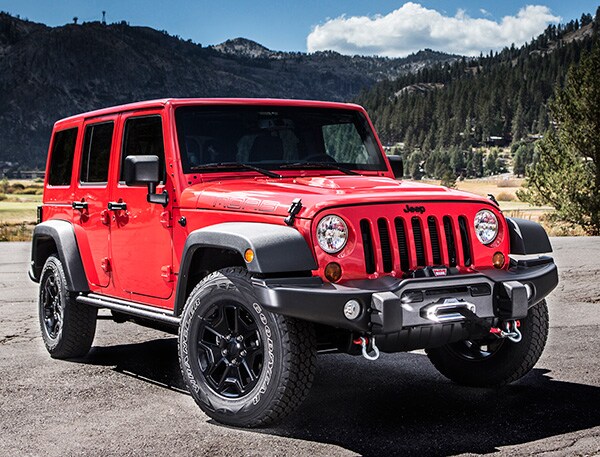 The Jeep Wrangler is arguably older than anything beyond pickup trucks, tracing its roots to field duty 70 years ago. Wrangler has been modernized with a contemporary engine, electronics inside and underneath, and the body panels are now artfully curved for stiffness while appearing flat.
However, the Wrangler remains the most maneuverable and trail capable vehicle from a showroom and will go places most owners don't dare drive. Or hike. If you're not used to hanging in your seatbelt like a puppet you have no idea what one can do.
Still trail capable but not so maneuverable is the Wrangler Unlimited. There are enough differences between Wrangler and Wrangler Unlimited that a mere two- or four-door reference wouldn't do it justice. The delta in wheelbase (the distance from front wheel center to rear) is similar to that between a regular cab and crew cab pickup.
Heated leather upholstery is available for Wrangler. You can swap the doors to half-size and fold down the windshield (though it's quite a chore) or power up the windows to indulge in climate control. No Jeeper ever had it quite like this.
All Wranglers are powered by Chrysler's 24-valve 3.6-liter V6, here rated at 285 horsepower and 260 pound-feet of torque. There's a choice of 6-speed manual or 5-speed automatic transmission. A Wrangler gets away from a stop with no problem but falls off the acceleration curve as it runs into aerodynamic resistance at highway speeds.
But if you buy a Wrangler for highway cruising you missed the point. Indeed, they will travel the Interstate with a modicum of comfort and civility but that's not what they're built for. Wranglers are better suited to all-weather urban runabouts, those living on a beach or off the grid or beaten path, or for those whose idea of a freeway is a fast section of dry wash or graded dirt run in 2WD. You can also use a Wrangler as a dinghy to tow behind your motorhome.
The soft top that comes standard slides and folds horizontally on the roof, leaving the occupants further protected by door and window frames, although there's already a rollbar. The removable hardtop comes off in three pieces, a pair of T-tops with a sunroof over the rear seat. With T-tops removed, at 65 mph the buffeting grates on you; but with the top on, it feels smooth at 75 and beyond.
In the popular two-door Wrangler there's very little storage space behind the rear seat, so four people with four medium backpacks is filled to overflowing. You wouldn't do any better with four people and luggage in a Mini, which is only 5 inches shorter. But if it's just you and some stuff, the rear seat can be removed, creating a spacious 61.2 cubic feet of cargo space; that's the configuration we prefer. Less likely, the rear seat can be remove from the four-door Wrangler Unlimited, making 87 cubic feet.
Wranglers are available with all the electronic trimmings, including a touch-screen navigation, but sunlight plays havoc with display readability and on a trail you're moving around too much to touch things accurately. At least the USB port means music without discs or tapes getting dusty.
We've driven Rubicons on their namesake trail, Oregon's Tillamook Forest, Michigan dunes and all the best (worst) stuff Moab has to offer, in far more comfort than Wranglers of old. If you don't want to build your own Jeep for trail use try a Rubicon. The Jeep warranty is probably better than your local 4×4 shop.
Wrangler is not built for gas-mileage. Typically it averages in the teens and doesn't change much between daily driving and long highway runs.
The current-generation Wrangler was introduced as a 2007 model. 2011 brought a refined interior. The 2013 Wrangler gets an improved soft top but carries over largely unchanged. Also new for 2013 is a Badge of Honor program in which you earn famous-trail badges (Rubicon, Hell's Revenge, etc.) by completing them.
Wrangler has little direct competition. A Mercedes G-Class has off-highway ability of an Unlimited, more luxurious cabin and costs three times as much. You might also argue a Power Wagon and Raptor as Unlimited challengers. For factory trail vehicles the only things approaching a Wrangler are Toyota's FJ Cruiser and 4Runner, Nissan's Xterra or a 15-year-old Land Rover Defender 90.