2013 Jeep Wrangler Walk Around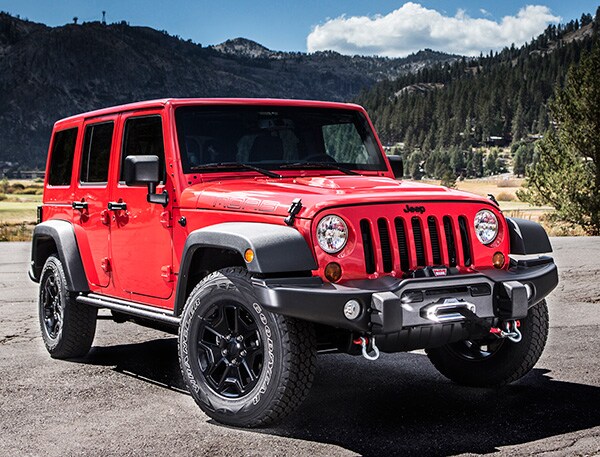 The 2013 Wrangler looks like a Jeep, and when that can't be said, it's time to worry. It may be the most recognizable vehicle in the world. Even the Unlimited four-door, whether hard top or soft top looks like a Jeep. Round headlamps, seven-slot grille, separate fenders, removable doors (half-doors are optional), and fold-down windshield are all proven Jeep cues. However, if you look for the flat panels of earlier Wranglers and CJs you won't find any; every piece of sheetmetal, and the windshield are slightly curved here. Meanwhile, the Wrangler Unlimited is the only four-door 4×4 convertible on the market.
The soft top slides and folds horizontally on the roof, leaving the occupants further protected by door and window frames, although there's already a rollbar. For 2013, the soft-top is easier to lift, though still more work than any convertible car, and some versions have a premium soft-top that borders on a headliner.
The hardtop is optional (price dependent on finish); it comes off in three pieces, like a pair of T-tops in front and a sunroof over the rear seat. We spent a summer day on Jeep trails in the Northwest in a Wrangler Rubicon with all three parts removed, and it was fabulous.
The soft top remains the sportiest in appearance and isn't much louder on the highway. We think the hard top is better for urban warriors, hunters, fishermen or other outdoorsmen because it provides better security for your outdoor gear in shopping center parking lots against thieves and better security for your food in camp against bears. Can't decide? Want both? The Dual Top option allows buyers to get both. We'd likely spring for Dual Top.
Paint colors include bright Crush Orange, Gecko Green and Rock Lobster Red, alongside more traditional colors for those who want to blend into the environment, whether suburban or bucolic.
If you like some of the body accessories fitted to the special edition models, many of those bits are available from Mopar, Chrysler's in-house parts division. They won't be cheap compared to the aftermarket, but the fit is guaranteed, there are no warranty issues, and your dealer might mix it in with your deal.
New for 2013 is a Badge of Honor program in which you earn famous-trail badges (Rubicon, Hell's Revenge, etc.) by completing them. We had some issues with an early app because, among other things, many of these trails are nowhere near cell service.
Interior
The Wrangler interior was upgraded with new seats and better ergonomics for 2011. Who expects heated leather seats in a topless Jeep? On the other hand, they are easy to wipe off, and staying warm with the top down in the Rockies on a cool, sunny day is not the worst idea.
We lived in a hardtop Wrangler for a week and it was all good, comfort-wise. With the top off there was a lot of wind buffeting in the back seat, but aside from that the Wrangler "is more comfortable than my Jetta," said our passenger, riding shotgun on rocky trails for a day.
We've driven a Wrangler Unlimited Sahara. It's roomy and comfortable and, even with leather, still every bit a Jeep. Good rear legroom, easy to climb in and out. The rear 60/40 seat folds or can be removed to create 87 cubic feet of cargo space, comparable to a Toyota 4Runner.
The center console makes a good armrest, though its height means you have to raise your elbow when using the shift lever. Power window switches are centered in the dash between omni-directional vents. Other controls are grouped around the radio or touchscreen entertainment head, on the stalks, steering wheel spokes, and ahead of the shifter. Bouncing around with your hand on the shifter is not only discouraged for the transmission, you readily get bumped into the switches, and hazard flashers look silly on the trail.
There's very little storage space behind the Wrangler's rear seat, so four people with four medium backpacks is filled to overflowing. But if it's just you and some stuff, the rear seat can be removed, creating a spacious 61.2 cubic feet of cargo space.
The Media Center options have their downsides, and if you go offroad or take the top down much, you won't like them. The touch screen is invisible in the sun. In a bouncing Jeep it's not easy to land your finger where you want it, even trying to tune the radio. A Jeep needs knobs you can grab. The 6.5-inch screen is reasonably large, but with some functions less than half of the screen is used, tiny little radio words, the other 60 percent says JEEP.
The navigation system in the Media Center is fairly simple in its display. It didn't make any errors on the routes we programmed, although finding the button to enter a destination was maddening. We suggest you skip the Media Center, be satisfied with six speakers in the standard sound system, and get your own GPS for navigation. It's a Jeep-like choice.