2013 Kia Optima Driving Impressions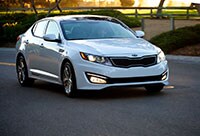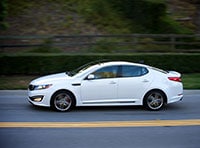 The Optima LX and EX use 200-hp 2.4-liter four cylinder engine, which we found flexible, very quiet, and reasonably powerful. As the engine most Optima buyers will choose, it is well suited to family duties both in daily traffic and at highway and commute speeds.
Even at middle throttle, accelerating from a stop, the engine is only distantly audible. Only under full acceleration does this engine remind you that it's a small four-cylinder, with an agonized yowl. At the more common task of accelerating away from an intersection, the Optima EX excels, smoothly and predictably gaining speed with no drama. In other words, throttle tip-in at slow speeds is linear and without surges; many cars nowadays jump off the line with overly sensitive throttles.
Ride quality is good, and the suspension soaks up roughness while delivering necessary road information to the driver. Chassis dynamics are excellent for a family mid-size car. Steering is accurate, firm and provided good feedback over twisting terrain. Pushing harder, there is good front-wheel grip, and when we hit a long curve at high speed, the multi-link rear end hooked up nicely. The usual ride responses experienced in vigorous driving, such as body roll, dive and squat, are well controlled, thanks to the car's rigid chassis.
The Optima SX is a sweet performance star with a classy ride. The turbo's performance, stability and agility are first rate. The engine is shared with the Hyundai Sonata. What's more, if you get the EPA estimate of 22/34 mpg City/Highway, it'll be as good as we got in our real world with the Optima Hybrid.
The Optima Hybrid delivered unimpressive fuel mileage when we drove it with no babying. EPA rates the Optima Hybrid 35/40 miles per gallon City/Highway. But our combined average, after 240 around-town and fast freeway miles, was 25.5 mpg. Around town we got just 20.5 mpg. Highest we reached was 39.4 mpg, in Eco mode at 60 mph; that's how to match the claims or EPA estimate. At 78 mph, with the Eco button amusingly still pressed, the average was 25.0 mpg.
The standard 6-speed automatic transmission is smooth in the gasoline-powered models, but we found the Optima Hybrid transmission, which is programmed for better fuel efficiency, awful. When it's changing gears, sometimes it feels like it's slipping, other times like it's snatching.
The Hybrid uses a 2.4-liter four-cylinder Atkinson cycle gas engine that produces 166 horsepower connected by a wet clutch to an Interior Permanent Magnet (IPM) synchronous electric motor producing 40 horsepower and 151 pound-feet of torque up to 1400 rpm in electric mode. Kia claims it can be driven in full-electric mode at speeds up to 62 miles per hour. Supposedly when the car comes to a stop and the electrical load is low, the engine shuts off to completely eliminate idle fuel consumption and emissions. Ours never did that.
The battery that powers the electric motor is a 270V lithium-polymer (Li-PB) battery. Compared to a nickel metal hydride system, this 95-pound Li-PB system is 20-30 percent lighter, 40 percent smaller, holds a charge 25 percent longer, is 10 percent more efficient, and offers twice the power density. The warranty is good for up to 10 years or 150,000 miles.
Wintry conditions do not suit the Optima. When we drove the Hybrid in snow we found little traction. We'll remember this Optima as the one-wheel-drive car. On our sloping driveway with a couple inches of snow, left front tire on asphalt and right front on ice, the power went to the tire on the ice, which just spun, as the car went nowhere. If you live in the Snow Belt, look elsewhere.