2013 Kia Optima Walk Around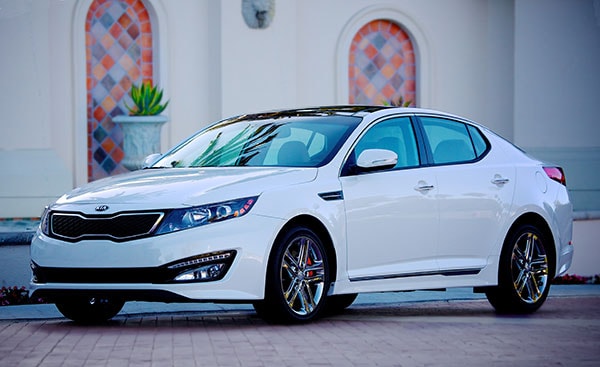 When this generation Optima was introduced as a 2011 model, it was a bold, fresh prism through which to view the Kia image. As with the Sorento and quirky good-natured Soul, the Optima's design focus is not Korean nor even Asian. It is a world car like sedans from Ford, Toyota or Honda. Sleek, aggressive and modern, the Optima is at ease; it's like a well-tailored Italian suit, made in Korea.
The suit seems a bit tight in the front, though. The Optima grille, a sharp-angled chrome bezel surrounding a black mesh screen, arouses opposite opinions. One correspondent called it elegantly simple, comparing it to Jaguar and Bentley, but most of us think it looks like it came out of an aftermarket catalog.
The racy wraparound headlamps, and low wide stance, imply athleticism. The front air dam is low enough to scrape in surprising places for a so-called sedate sedan like this, and gives the nose an aggressive look while helping fuel mileage. Scraping can be annoying if your driveway or a nearby intersection you use is severe enough to cause the nose to drag.
The sides of the car are admirably clean, with three horizontal character lines giving them form and flow. Handsome flared fenders add muscularity to the Optima's flanks.
Wraparound red taillights complete the dynamic look, with dual chrome exhausts, one at each side, fulfilling the sporty image by gilding the rose, since dual exhausts on an inline four-cylinder are pure styling, like snowshoes on a duck. Still, the imagery is enticing.
Interior
Optima's interior concedes nothing to its European or American competitors, except for its black plastic trim. The dashboard uses pebble-grain black leather, handsomely stitched with French seams. Optional leather spreads to the seats, trimmed with fabric.
The instrument panel is clean, including four handsome horizontal climate vents. Instruments use a clear font. The lettering on the tachometer and speedometer is organic white with a red needle.
The leather-wrapped four-spoke steering wheel is thick, feels good in the hands. It tilts and telescopes, and contains controls for audio, cruise control, phone and a big green button for Eco. Heating is optional.
The five-passenger seating is excellent, with a full range of adjustability available in the driver's seat. The seats are firm, well-bolstered, and deliver snug lateral support for more vigorous driving. However, the center-rear passenger must ride the camel's hump, and the rear legroom is on the low side of average, at 34.7 inches. Heated front and rear seating is available, as is front cooling and a cooled glovebox for drinks.
The panoramic sunroof, on cars so equipped, is huge, airy and truly bright. When closing it, the sunscreen panel closes automatically. A separate function opens only the screen and tilt roof. Nice, as with the controls on the center console, angled slightly towards the driver.
Navigation is fairly easy to set, and you can operate it while the car is moving, though we recommend your co-driver perform this duty. The display for the Hybrid is slightly strange, with growing flowers in Eco mode, that get bigger as you drive more efficiently. In the center of the speedo a display shows average and instant fuel mileage, with blue bars that move with the throttle position. It also scores your efficiency. There's a big round instrument on the left that's an Eco guide, with white, green and red zones. You can see energy flow back and forth between the wheels, battery, and engine.
The Hybrid offers a Microsoft voice-activated infotainment system with its audio system, incorporating Bluetooth and back-up camera. Infinity's deluxe 12-speaker audio system, with stylish speakers in the doors and dash, delivered superb sound.
A Virtual Engine Sound System (VESS) plays an engine sound during electric-only operation up to 12 miles per hour, to help notify people outside the vehicle that it is approaching. We would have liked to hear this mock buzz, but we couldn't get the Hybrid to run on electric only. It took the internal combustion engine just to back downhill out of our driveway. Nothing new with hybrids.
The Hybrid's air conditioning system uses an electric compressor, reducing the losses in belt-driven systems and allowing cool air to flow, even with the engine off in Idle-Stop mode. We didn't test it because it was freezing outside. So far, we've found that when they say cool air, they mean exactly that, as in not hot. Don't expect air-conditioning cold, in summer.
Cargo space is vast in the Optima EX and SX (15.4 cubic feet), but not so vast with the Hybrid (9.9 cubic feet) because of battery placement. We also noticed the right side B pillar creates a blind spot over the driver's shoulder.