2013 Kia Rio Summary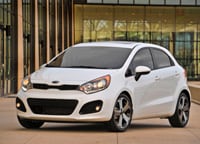 The Kia Rio is a good choice among subcompacts because it does everything well. It gets excellent fuel economy, it's enjoyable to drive, it's roomy and comfortable. We especially like the Rio 5 hatchback for its convenience.
NewCarTestDrive.com correspondent G.R. Whale reported from Seoul, South Korea; Laura Burstein reported from Los Angeles.