2013 Kia Soul Driving Impressions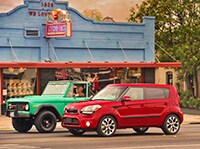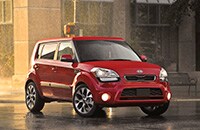 The Kia Soul is nimble and fun to drive. We've driven Soul! models with the 2.0-liter engine and 6-speed automatics primarily. We haven't had a chance to test drive a base model with the 1.6-liter engine, but given its ample 138 horsepower and six gears (with manual or automatic), few people should feel the need to step up to the Soul+ or Soul! for the more powerful 2.0-liter engine.
Both engines feature direct fuel injection, for high-end power with good fuel economy while cruising. The 2.0-liter engine makes 164 horsepower at 6500 rpm with a good 148 pound-feet of torque peaking at a fairly high 4800 rpm. This is more than adequate in a 2700-pound car. Indeed, the Soul can keep up with traffic easily; many V8-powered full-size SUVs are not demonstrably quicker. The Soul! does require a serious prod with your right foot to force a downshift for passing or merging, but does so quickly and upshifts in steps as appropriate.
The automatic's shifter has up/down manual control to the left of the D position, handy for long descents or constant elevation changes. We found the clutch on earlier manual-transmission models to be smooth in operation, both from a standing start and while upshifting, and with six gears and ample torque we'd expect sprightly acceleration from even the 2013 base model. We suspect some buyers will choose the automatic simply to get the equipment and option packages that don't come with the manual.
For example: Since late 2012 Kia has offered an ECO package for Soul automatics that includes a system called ISG. This stands for Idle Stop and Go, meaning the car automatically turns the engine off at stops and restarts it when you lift your foot off the brake to prepare to move again. We sampled ISG in 1.6-liter Kia Rio models and found it works as advertised. We were riding in the passenger seat the first time it functioned, and the driver didn't even notice. ISG nets a 1 mpg increase in EPA City ratings; if you spend a lot of time sitting in traffic you may realize greater gains.
Either engine has sufficient power to have traction control reign in tire spin in exuberant driving or sharp-turn starts on wet surfaces. No all-wheel drive system is offered nor is it needed. With the majority of its weight over the drive wheels and a lightweight package, a set of winter tires will get you through the neighborhood better than many heavy four-wheel drives.
The power steering is electric, and has a nice light but not vague feel. It makes the whole car feel lighter, and it responds to driver input well. Don't expect it to feel like a sports car, but then it's not intended to.
The Soul suspension is good, compliant, okay over speed bumps, and not once did we hit anything that produced any jarring or bashing impacts. It's not sophisticated and will transmit some bumps on rough roads, but you won't find anything noticeably better in this price range, nor will you upset your passengers. Brakes are all-disc on all models and we found them firm and solid in the wet or dry.