2013 Kia Soul Introduction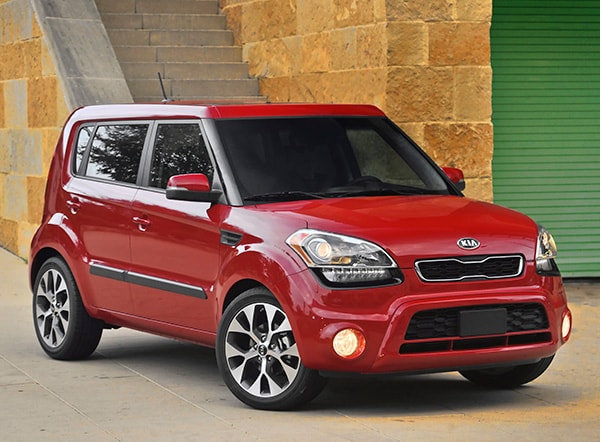 The Kia Soul is an inexpensive runabout with youthful styling, good fuel economy and utilitarian design and features. The goal with Soul is to stand out in a sea of sameness. In spite of its shape, the Kia Soul is a car. It is not an SUV. The mechanical design of the Soul is similar to that of a small sedan. All models are front-wheel drive; no all-wheel drive is offered.
2013 Kia Soul models are distinguished from last year's models by new color and trim choices and some minor content changes. The Kia Soul debuted as a 2010 model. 2012 models brought new engines and freshened styling.
Two engines are offered. A 1.6-liter four-cylinder comes standard, rated 138 horsepower and available with a choice of 6-speed manual or 6-speed automatic. EPA-estimated fuel economy is 25/30 mpg City/Highway for either transmission, so the choice should come down to how much you enjoy stirring gears. However, cruise control and a multi-adjustable driver's seat only come on the automatics.
A 2.0-liter four-cylinder rated at 164 horsepower comes with Soul+ and Soul! models. It's available with the 6-speed manual or 6-speed automatic, but this time the manual enjoys a slight fuel economy advantage, at 24/29 mpg vs. 23/28 mpg for the automatic. That's unless you order the Eco package, which uses low-rolling-resistance tires and an extended-idle shut-off (called Idle Stop and Go, or ISG) to bump the automatic's EPA ratings back up equal to the manual's.
We think the standard 1.6-liter engine is a viable choice, offering plenty of power and the best fuel economy. The upgrade 2.0-liter engine delivers a bit more power, however, particularly important for the automatic, costs just slightly more and nearly matches the smaller engine in fuel economy.
Overall, we found the Soul felt nimble and light, fun to drive. It rides like the other economy cars in its class. And it's cute, with smooth and stylish lines, for a box, that is, and the interior is notably clean and functional.
Standard equipment includes six airbags, ABS, and electronic stability control to help keep you safe. Kia offers accessories to personalize your Soul and establish your own identity. How many car makers can offer that?