2013 Kia Soul Summary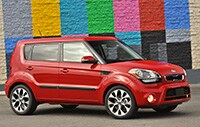 The Kia Soul offers drive-it-and-forget it simplicity with four-door upright hatchback versatility. It's easy on gas and the wallet, and its styling still has personality five years on. It will appeal to many ages for the same, and different reasons. It is easy to drive and great fun in urban settings because of its nimble size, driver position and view, and dynamic response. If it has any vices we have been unable to find them.
Sam Moses reported from Miami; with G.R. Whale reporting from South Korea; NewCarTestDrive.com associate editor John F. Katz contributed to this report.