2013 Kia Sportage Introduction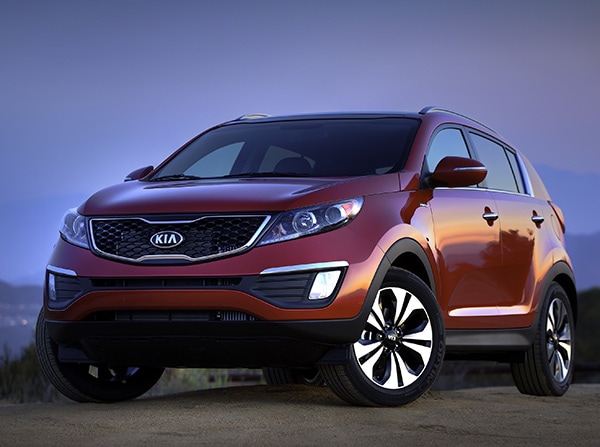 The Kia Sportage is a sporty crossover utility vehicle, conveniently sized and well-executed in almost every way. The Sportage coaxes both ample performance and decent fuel economy from a choice of two moderately sized engines.
The 2013 Kia Sportage with the standard 176-horsepower 2.4-liter four-cylinder engine earns an EPA City/Highway rating of 20/27 mpg with automatic and all-wheel drive (AWD); front-wheel-drive 2013 Sportage models achieve an even better 21/30 mpg rating. Aiding fuel efficiency is a relatively lean curb weight of 3200-3400 pounds.
The Sportage SX, with its turbocharged 2.0-liter four-cylinder, delivers the power and torque we'd expect from a V6: 260 horsepower and 296 pound-feet, respectively. The 2013 Sportage SX gets a respectable 21/28 mpg EPA City/Highway rating with front-wheel drive and 20/25 mpg with AWD.
We found the standard 2.4-liter engine delivers its power smoothly and mostly in a linear manner, with only an occasional, slight surge after an upshift in the automatic as the electronics adjust to the changing load. Those gear changes are clean, if not remarkably sharp, with ready downshifts for overtaking or merging.
The steering feels heavier in the AWD version but is reasonably responsive in both, with good directional stability. All-wheel drive comes with a limited locking feature for low-speed use in adverse conditions.
The 2013 Kia Sportage is changed only slightly from last year. 2013 Sportage models can be distinguished by revised Kia badges. Power folding mirrors and sun visor extenders come on all 2013 Sportage models. LED accent lights come on 2013 Sportage LX and 2013 Sportage EX models; the 2013 Sportage SX gets LED daytime running lights. The 2013 Sportage EX is available with a new blue interior package. Sportage was redesigned for the 2011 model year. Some interior features were added for 2012.
The styling looks fresh and sharp from every angle. Character lines are crisp but subdued, contrasting nicely with the overall rounded look. Blackened lower trim panels imply good ground clearance while keeping the tires visually in proper proportion to the body.
We found the interior accommodations comfortable, though the Sportage lacks the interior roominess of its competitors, the Honda CR-V, Toyota RAV4, and Subaru Forester. The front seats offer good support. Leather-trimmed seats and an air-cooled driver's seat is available. An AM/FM/CD/MP3 six-speaker stereo with SiriusXM radio comes standard, with a subwoofer and external amplifier optional. An optional navigation system with a touch screen includes a rearview camera, an excellent safety feature. Sportage EX and SX get dual-zone, automatic climate control.
Cargo capacity is a generous 26.1 cubic feet behind the second seat but a less-impressive 54.6 cubic feet with the second seat folded. Translation: It's handier for hauling people than large amounts of cargo.