2013 Land Rover LR2 Driving Impressions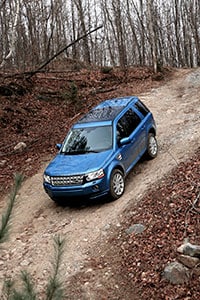 The LR2 drives like any Land Rover should. It's capable of conquering practically any obstacle off-road, and more than competent of engaging the driver on the tarmac covered, twisting canyon curves.
For 2013, Land Rover ditched the 3.2-liter, naturally aspirated engine of old, replacing it with a more fuel-efficient and powerful 2.0-liter turbocharged four-cylinder that first appeared in the Range Rover Evoque.
The high efficiency turbo provides zero lag, as power is delivered linearly throughout the rev range. 0-60 mph comes in a solid 8.2 seconds, made possible by 240-horsepower and 250 pound-feet of torque. Horsepower received a 10-hp boost over the 3.2-liter engine, with torque increasing by 16 lb-ft. The motor is also 88 pounds lighter than the outgoing engine which helps it achieve better fuel numbers and deliver more punch.
Fuel economy is an EPA-estimated 17/24 mpg City/Highway, or 20 mpg Combined. Premium gasoline is recommended.
The engine is mated to a 6-speed automatic gearbox that works well. It doesn't unnecessarily jump out of gear, or select a gear not desired. And if you put the lever from Drive into Sport, the gears are held just a touch longer than usual.
On-road the LR2 feels agile and responsive. The ride is far firmer than you would imagine, and during hard cornering the machine is poised and well balanced. The vented disc brakes perform great and pedal feel is perfect, not too grabby, but still maintaining good initial bite. With just 2.6 turns lock-to-lock, the rack and pinion steering is responsive and direct. The column is adjustable for reach and rake, too.
A key contributor to the LR2's on-road prowess is the fully independent suspension, with four corner coil-spring struts. A unibody construction is used and reinforcements have been implemented to strengthen the body, such as high-strength steel in the door beams and dual-phase steel in the A-posts and lower sills.
When you take the LR2 off-road it is immediately in its element. You feel like no obstacle is too challenging, and for the most part, you are right. Minimum ground clearance is 8.26 inches, which is a little low when dealing with big boulders, but despite a few bangs and grinds, the LR2 soldiers on without complaint.
Wading depth is 19.7 inches making shallow water crossings a piece of cake. I crossed a 200-yard river full of ice-boulders during my time in Montreal driving the LR2. It was effortless, and at times I swear we were deeper than 19.7 inches, although perhaps that was merely perception.
Deep mud, steep climbs and descents provide only a minor grievance. Simply add a bit of additional power and the car blasts through like it's taking a Sunday morning stroll to pick up the latest copy of Outdoor magazine.
The reason the LR2 (and all Land Rovers) can handle such extreme conditions with grace is their immaculate Haldex four-wheel-drive system. The front-rear torque split is continuously variable through a hydraulically operated multi-plate wet clutch. The system can pre-engage at rest to reduce wheel-spin from standing starts, and then engage quickly when traction loss is detected. It will disengage swiftly to optimize the response of the stability control, too.
Under normal conditions, only a small amount of torque is fed to the rear wheels, but when the roads get slippery, almost all torque can go to the rear if needed.
Another key to the LR2's performance is its Terrain Response system, which directs the engine management, transmission control, traction control, ABS brakes, stability control and center coupling.
By selecting among four modes (General Driving, Grass/Gravel/Snow, Mud & Ruts, and Sand) you customize the Terrain Response for the specific conditions you might face.
If you come to a steep downhill section, Hill Descent Control restricts speed by utilizing the anti-lock brakes to improve driver control. It really is easy to use and intuitive. Simply press the Hill Descent button, select the amount of control you require from the system (based upon the steepness of the slope), begin your descent and release the brake. The system then takes over 100-percent allowing you to focus entirely on steering the car.