2013 Land Rover Range Rover Evoque Driving Impressions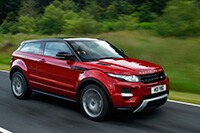 Land Rover's Range Rover Evoque uses a 2.0-liter turbocharged four-cylinder engine rated for 240 horsepower and 250 pound-feet of torque. It pulls smoothly and has very little throttle lag. The 6-speed automatic, which includes paddle shifters for manual operation, kicks down quickly for passing.
Acceleration performance is neither lethargic nor particularly quick. Land Rover quotes a 0 to 60 mph time of 7.1 seconds, which is respectable and certainly enough to keep up with urban traffic. By comparison, the BMW X1 xDrive28i can perform this feat in 6.3 seconds with its 240-hp 2.0-liter turbo four.
Fuel economy is an EPA-estimated 20/28 mpg City/Highway. The BMW X1 xDrive28i is rated 22/30 mpg.
Evoque's turbocharger builds boost quickly, so it takes some practice to achieve smooth launches. We also found that it's not too difficult to confuse the computer controlling the 6-speed automatic; its electronic brain seems to balk at abrupt changes in throttle position. These are traits that become transparent to an owner over time, but there's room for improvement here.
In really rough stuff, its Land Rover credentials shine. With its short front and rear overhangs (i.e., not much vehicle protruding beyond the front or rear axles), the Evoque has far more off-road ability than you might expect based on the looks. The four-wheel-drive system employs a Haldex center differential that automatically apportions torque front or rear according to grip. It's totally transparent and very effective. Off-roading is also aided by the Terrain Response system. It has settings for Mud-Ruts, Grass-Gravel-Snow, Sand and General Driving, and it works with several vehicle systems to help the Evoque conquer almost anything the world throws at it. For example, the throttle is dulled and the transmissions shifts up sooner in Grass-Gravel-Snow, while the throttle is aggressive and the transmission holds gears longer in Sand mode.
While the Evoque is the most capable off-roader in its class, it isn't as accomplished as other Land Rovers due to a relatively low (for Land Rover) ground clearance, no low-range gearing, and a lack of locking differentials.
The Evoque balances its off-road capability with impressive on-road dynamics. Suspension tuning is firm, and that trait, combined with the rational ride height give the Evoque a lively sense of agility without any apparent sacrifice in comfort. Directional changes are brisk, body roll is limited, brake feel is firm, and the words car-like driving experience certainly apply here. When equipped with the optional MagnaRide suspension, Terrain Response also includes a Dynamic mode that firms up the shocks in corners to further reduce body lean.
If there's any soft spot in the Evoque's dynamic credentials, it's at the wheel. Range Rover has adopted a new electric-assist steering system that varies effort as a function of speed. It's quick, just 2.5 turns lock-to-lock, but it's also lacking in road feel. That's not a good combination. But it's another of those little quirks that owners adapt to over time.