2013 Lexus CT200h Driving Impressions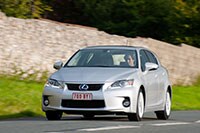 First, the best: the cornering is terrific. It's no accident. The chassis engineer, Mr. Satakata, worked to make the CT 200h feel spirited and secure on twisty roads, and it does. Torsional rigidity is addressed at every chassis opportunity, and there's a double-wishbone rear suspension, low center of gravity, centralized moment of inertia (like a horizontal center of gravity), and performance dampers (first seen on the Toyota Corolla GTS), which are horizontal bars with a gas shock absorbers mounted between the front strut towers and rear frame horns.
The turning circle is a tight 34.2 feet, making city driving a breeze.
Ride quality is excellent. The CT takes lumpy patches in stride. The F Sport package includes shock absorbers that are slightly firmer, and they don't make the ride any less comfortable, but they're not needed.
The only problem with the good cornering is that the powertrain can't keep up. Using the Prius powertrain, the CT 200h makes 98 horsepower from the 1.8-liter Atkinson Cycle gas engine and 80 hp (60 kW) from the generator, for a total of 134 horsepower, not much. Full-throttle acceleration from 0 to 60 takes 9.8 seconds, same pokey pace as the Prius. That's lethargic acceleration performance when you're trying to get on the freeway in front of a big speeding truck.
If Lexus made a CT with the IS 250 engine and 6-speed gearbox, it would be a star. They do make one of those in Japan.
Sport-wise, the CVT, or Continuously Variable Transmission, is a letdown. It doesn't have gears like a normal automatic or manual, or even steps and paddles to shift sequentially, like some non-hybrid cars with CVTs. When you push the CT200h on twisty roads in order to enjoy the handling, the engine rpm's keep surging for the CVT to work, ruining the fun. The surge is all aural, as there is no actual surge felt in the car, but it's still annoying.
It's very quiet inside the cabin; at 75 mph on the freeway you can't hear the engine at all. But it growls and works when you're accelerating to 50 mph.
The Lexus can't compete in the fun-to-drive department with the front-wheel-drive Audi A3 turbodiesel with direct injection, which makes 140 horsepower and gets 30/42 mpg City/Highway. The Audi has the brilliant DSG transmission, and still costs less than the Lexus. With its low emissions (although not as low as a hybrid) it was the 2010 Green Car of the Year, from Green Car Journal. If mileage or emissions aren't your top priority, the gas A3 makes way more power with its 2.0-liter turbo, while getting 21/30 mpg with the manual 6-speed.
The CT has four driving modes: EV, Eco, Normal and Sport. Don't count on going anywhere in EV; our CT wouldn't even run the fan in the driveway in EV-only mode, let alone take us across the street from the bank to the grocery store. Lexus says the CT 200h can go for one mile at 28 mph in EV mode on a full battery charge, and we're not saying it can't; we're just saying easier said than done, and we sure couldn't get there. In EV mode, battery power goes away fast.
Around town, below 25 mph, Eco mode is fine. But if you're accelerating past that, especially up a hill, the CT will shift itself into power (Sport) mode. The differences between Eco, Normal and Sport modes are not in their limit to power, but in how fast it will accelerate to that limit.
Fuel economy for the CT 200h is an EPA-estimated 43/40 mpg City/Highway or 42 mpg Combined, on regular 87-octane gasoline. But during our one-week test, we didn't see it. Out on the freeway at a steady 68 mph, we got 37.7 mpg; around town, driving like a little old lady, we saw 20.6 mpg. Granted, there were a lot of hills and it was cold so the heater was running, but that's less than half of what the EPA says.
There's a Braking mode, which gets the most out of regenerative brake energy to build up the battery charge. You can definitely feel it, because it slows down the car faster when you back off. Ironically, it slows the car down too fast, around the city when you want that battery charged up; you can't coast or glide as far. But it's great when you're driving down a curvy mountain or on a busy freeway. When you get there you'll have a full tank of battery juice.
Regenerative braking aside, the brakes are nice and firm.
Finally, we performed a test, to answer our own questions about the CVT rpm surge.
We switched on the optional 10-speaker premium sound system, and turned the volume way up with hard rock. Like magic, the perceived surging stopped, because we couldn't hear it. We watched the tach, and it kept radically jumping up and down. The car was totally smooth. This weirdness is why people have a hard time with CVTs. The CVT relationship isn't between speed and rpm, like we're used to, it's between acceleration and rpm, and it's sensitive and sometimes extreme.
We extended our test of this aspect of the CVT. Out on the open freeway, in Sport mode, the tach needle was barely 2000 rpm at 77 mph, and when we accelerated just a bit to 80 mph it leaped to 5000 rpm, with redline at 5500. We got to 82 mph and it maintained that speed at 3500 rpm. Even playing around like that, we got 30 mpg for those few miles.