2013 Lexus GS Introduction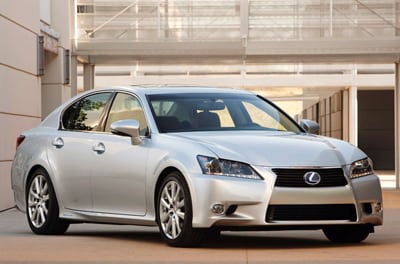 The Lexus GS is all-new for 2013, the fourth generation of the mid-size sport-luxury sedan. The engine and transmission are updated versions of the third generation, while the majority of the 2013 Lexus GS represents wholesale change.
Debuting the next house of Lexus styling, the 2013 Lexus GS approaches with a heavily chiseled front end and a rear that blends LS460 and BMW 5 Series. Although outward appearances suggest a more formal sedan than the previous version, the low, wide interior and seating positions are more sporting than before. Apart from the exotic LFA and the high-strung IS F the GS is Lexus's most driver-oriented car. For starters, the GS uses a rear-wheel drive platform.
The 2013 Lexus GS 350 is equipped with a 3.5-liter V6 rated at 306 horsepower, more than adequate anywhere except a bragging contest or drag strip. And the substantially revised 2013 GS 450h hybrid brings 338 hp, incongruously being the quickest and most economical GS. No V8 is offered.
The Lexus GS blends responsive feel with long-distance comfort; neither edgy like a sports car nor insulated as a big luxury sedan.
All Lexus GS models are rear-wheel drive, and the GS 350 is available with all-wheel drive.
Enthusiasts will embrace the GS 350 F Sport model, which prioritizes driving dynamics. If you consider the drive half the fun of getting there the GS is your kind of car. If you consider getting back the other half, better the IS F. And if you prefer not to think about the driving at all, the Lexus ES may be a more appropriate choice.
Traditional luxuries of fine materials, quiet refinement and power accessories are complemented by the latest in electronics, communications and an operating screen larger than some laptops. Worth noting are the luxury package's front seats that compete with the best in class. and that rear seat space has grown considerably while the exterior has not.
Lexus names the Audi A6, BMW 5 Series and Mercedes-Benz E-Class as the primary GS competitors; both the 5 and E have rear- and all-wheel drive versions while Audi's A6 3-liter is all-wheel drive only. We think the Infiniti M that offers V6, V8, hybrid and rear or all-wheel drive the most logical competitor, and would add the Cadillac CTS, Hyundai Genesis, Jaguar XF and Volvo S60 to the shopping list.