2013 Lexus GX Introduction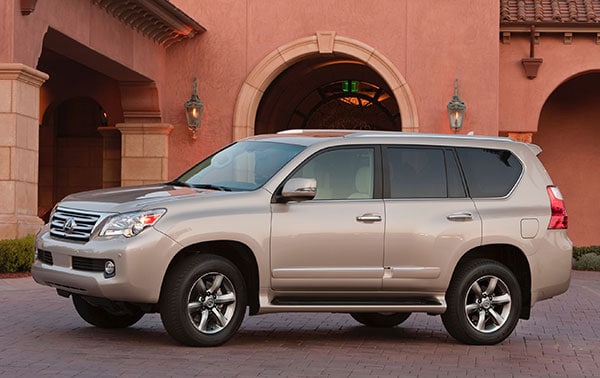 The Lexus GX 460 is designed to hold up to regular use over rugged terrain and is capable of tackling the most challenging trails. The Lexus GX shares the its basic platform with the Toyota 4Runner, renowned for its off-road capability.
The 2013 GX 460 carries over unchanged from 2012. The GX 460 was all-new for 2010, and Lexus has changed only minor details since then.
The Lexus GX comes standard with a 4.6-liter V8, hence the GX 460 designation, and a 6-speed automatic transmission.
The GX seats seven. Inside is a luxurious cabin trimmed with wood and leather and equipped with heated and ventilated seats, rain-sensing windshield wipers, a power moonroof, multimedia entertainment and other amenities. Like other luxury SUVs, there is a carefully crafted interior lighting scheme, programmable preferences for a variety of features, and the use of powered equipment that goes well beyond windows, seats and mirrors.
With body-on-frame construction and low range gearing, the GX 460 is far more rugged and powerful than the Lexus RX crossover. Unlike the RX, the GX offers excellent off-road capability. It is equipped with enhancements to make off-road driving safe and easy. It's very comfortable in town and a great setup in the backcountry. The GX can tow up to 6500 pounds with optional hitch.
The GX comes standard with a full-time four-wheel-drive system with locking center differential and low-range gearing. It's a system that requires little or no input from the driver, and it's ideal for secure travel during heavy rains and on icy roads, or on dirt/gravel surfaces.
The GX 460 competes with the Land Rover LR4. It requires premium (91 octane) gasoline.