2013 Lexus LX 570 Introduction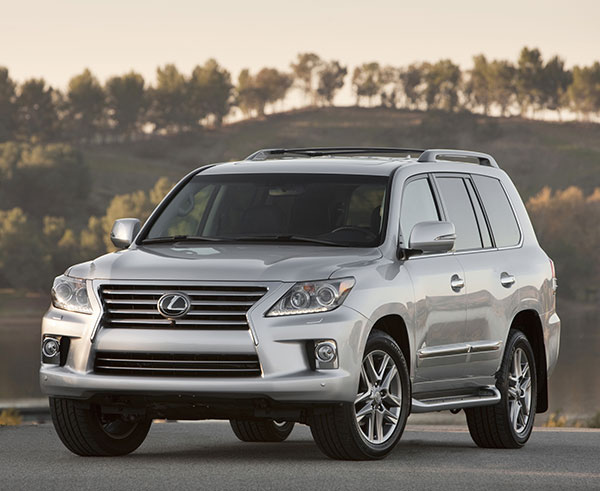 The Lexus LX 570 has a new look for 2013, thanks mainly to the new spindle grille that has become the Lexus corporate hallmark. Other styling refinements, inside and out, distinguish the latest edition. The 2013 Lexus LX 570 also gets updated electronics, both for tackling tough terrain and in terms of information and entertainment features. New conveniences have been added to the 2013 LX 570, such as a steering wheel and driver seat that automatically retract for more graceful entries and exits.
The Lexus LX 570 is a true luxury vehicle, with advanced safety, comfort and quality features. It's also a big, heavy vehicle that can tow big loads, haul heavy cargo, and transport people and gear across great distances in comfort. It uses the same heavy-duty frame and stout powertrain as the Toyota Land Cruiser. Like the Land Cruiser, the Lexus LX 570 is designed for extraordinary versatility and an unusual combination of utility and luxury. But with the Lexus, luxury comes first.
Designed for a different kind of use, the Lexus LX offers a number of qualities and features that the Land Cruiser does not offer. These include technological advances such as wide-view parking monitors, adaptive front headlights, and an active damping suspension control system. A Mark Levinson audio system is also a Lexus exclusive, and the interior is built using a higher level of materials and finish.
The Land Cruiser is better equipped for rigorous off-road use; the LX 570, although also highly capable, is aimed more at the luxury car owner who occasionally needs guaranteed control on a snowy road leading to a ski resort, or safe traction on the graded dirt road leading to a ranch house or mountain fishing lodge. Either one of them will go just about anywhere. Safety features are on a par with the best luxury sedans. The ability to haul boats or horse trailers up to 7,000 pounds makes the LX 570 the most capable SUV offered by Lexus; while the Land Cruiser can tow up to 8,500 pounds.
The Lexus LX is relaxing to drive on long trips, gliding down the open highway with easy, but it's also equipped with a brace of thoughtful features to make around-town driving and parking more convenient.
The Lexus LX competes with the Cadillac Escalade, Land Rover Range Rover, and Mercedes-Benz GL-Class. The Range Rover and GL-Class are all-new for 2013. The Lexus LX was last redesigned for the 2008 model year.