2013 Lincoln MKX Introduction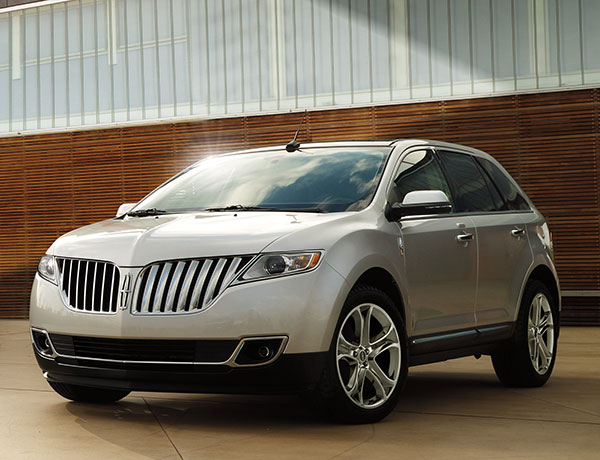 The Lincoln MKX brings high-tech safety, solid value, and a unique Lincoln look to a crowded field of luxury compact crossovers.
The Lincoln MKX competes with the BMW X5, Cadillac SRX, Buick Enclave, and Lexus RX 350. The $39,545 base price of the MKX slips just below the mathematical average for this group, yet MKX offers value with standard leather seats, heated and cooled front seats, remote starting, and a power liftgate. Those features are all extra-cost options on the competition. Not only does it offer horsepower near the top of this group, the Lincoln MKX also delivers class-leading fuel economy from the EPA of 19/26 mpg City/Highway.
New for 2013 is an expanded voice-activated SYNC system. The 2013 Lincoln MKX now comes standard with Curve Control. Launched as a 2007 model, the MKX was thoroughly revised for 2011.
Curve Control helps you keep the wheels on the pavement and the shiny side up should you misjudge a curve and try to round it too quickly. Lincoln says that trying to take a curve too fast contributes to 50,000 crashes in the U.S. annually. And while no electronic widget can change the laws of physics, features such as curve control can help compensate for human error. Curve Control is integrated into Lincoln's AdvanceTrac with Roll Stability Control.
MyLincoln Touch is both an improvement on and companion to the Sync voice-activated communications technology. It uses twin five-way thumb switches mounted on the steering wheel spokes, plus two 4.5-inch LED display screens flanking the speedometer in the instrument cluster, and an 8-inch LED display screen at the top center of the instrument panel with a four-zone color-coding system. The MKX has a unique panel of flat touch buttons and lighted slider switches below the sound system to control volume and temperature functions. The thumb switches, and the touch-screen control climate, sound system, telephone, navigation and an enormous variety of information functions including turn-by-turn directions, sports scores, local fuel prices, movie listings, dining, and even horoscopes. The system uses a list of up to 10,000 voice commands, making it relatively easy and intuitive to use. To start a search for a restaurant, for instance, all you have to do is tell the car you're hungry.
Like most vehicles in this class, the Lincoln MKX comes with a choice of front-wheel drive or all-wheel drive. The AWD version gets one more gallon of fuel capacity in its tank, and a slightly lower axle ratio, 3.39:1 versus 3.16:1, but otherwise the two vehicles are identical in specification. That shorter gear ratio, and the 180 pounds the AWD system adds, reduces highway fuel economy by 3 mpg, dropping from 26 mpg for the front-drive MKX to 23 mpg with all-wheel drive.
We recommend getting the all-wheel drive, because it is a very good computer-controlled part-time system that puts the torque where it needs to be, whether you're cornering fast in dry weather, or dealing with rain, snow, ice or mud. It's worth the bump in price the first time you get into messy conditions and every time thereafter.