2013 Lincoln Navigator Introduction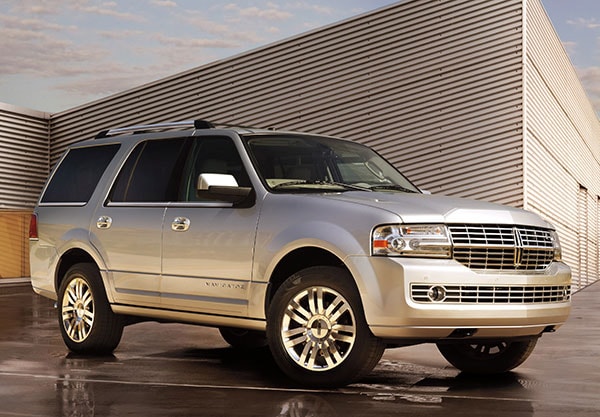 Lincoln Navigator boasts the towing and load potential of a truck with the comfort and convenience of a luxury sedan. The Navigator offers real space for up to eight passengers. It also features enormous cargo capacity. Navigator is rated to tow up to 9,000 pounds.
Yet the Navigator is smooth and quiet on the road, with a compliant, fully independent rear suspension that smoothes over the roughest of pavement. It is a truck with a ladder-type box frame and separate body, so the Navigator is not as responsive as a crossover SUV such as the Lincoln MKX. Car-based crossovers don't offer the towing capability of a truck-based SUV such as the Navigator, however.
The Lincoln Navigator comes in the standard size or a long-wheelbase version called the Navigator L. Both can seat seven or eight passengers, depending on the seating configuration ordered. The Navigator L is almost 15 inches longer than the standard version. Passenger accommodations are essentially the same, but the Navigator L provides an additional 24 cubic feet of cargo space behind the third seat.
The Navigator is powered by a 310-horsepower 5.4-liter V8 with a 6-speed automatic transmission, which we found work smoothly together. Navigator is available with either rear-wheel drive (2WD) or electronically engaged four-wheel drive (4WD) that can be driven on dry pavement and includes low-range gearing. We recommend opting for the four-wheel drive.
New and standard for 2013 is Curve Control. Integrated into Lincoln's AdvanceTrac with Roll Stability Control, Curve Control helps you keep the wheels on the pavement and the shiny side up should you misjudge a curve and try to round it too quickly. Lincoln says that trying to take a curve too fast contributes to 50,000 crashes in the U.S. annually. And while no electronic widget can change the laws of physics, features such as curve control can help compensate for human error.
Of course the Navigator also offers all the infotainment electronics you'd expect in this price class. Voice-controlled navigation, HD Radio, and Sirius Travel Link are just a few of the Navigator's standard features. Ford's corporate SYNC system includes voice activation with standard Operator Assist, while SYNC AppLink software provides hands-free voice control of select smartphone apps.