2013 Mazda 3 Introduction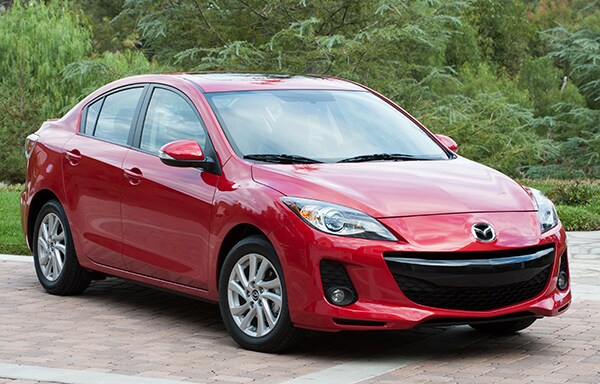 The Mazda3 is a sporty alternative to the Honda Civic and Toyota Corolla. Mazda3 comes in four-door sedan and five-door hatchback versions with a choice of engines and trim levels ranging from thrifty to sporty.
The 2013 Mazda3 benefits from upgraded options including TomTom-based navigation on a larger, 5.8-inch color touch screen, a USB audio port, pushbutton start, and SMS text message delivery/receipt features. Launched as a 2010 model, the current-generation Mazda3 got a refresh for 2012, including Mazda's SkyActiv technology.
The Mazda3 looks smooth, pretty and aerodynamic. The sedan boasts a smooth 0.27 coefficient of drag, while the five-door gets a 0.29 Cd, slippery for a hatchback. This reduces wind noise and improves fuel economy. These cars are stylish, with front fenders puffed out forward of the wheels.
The Mazda3i SV base model is powered by a 2.0-liter four-cylinder engine that makes 148 horsepower and 138 pound-feet of torque. EPA fuel economy estimates with this engine are 25/33 mpg City/Highway with the standard 5-speed manual transmission, 24/33 mpg with the optional 5-speed automatic.
Mazda3i Sport, Mazda3i Touring, and Mazda3i Grand Touring models come with Mazda's SkyActiv powertrain, which delivers 155 horsepower and 148 pound-feet of torque. SkyActiv is the most fuel-efficient of the lineup, with an EPA-estimated 27/39 mpg with the standard 6-speed manual, and an impressive 28/40 mpg City/Highway with the optional 6-speed automatic. In our test driving, we got 29.5 mpg driving it hard over the curvy mountainous highways east of Los Angeles, and 43.7 mpg returning to the city mostly on the freeway, running 65-70 mph, accelerating and decelerating with the fast flow of traffic. We recommend this engine.
Mazda3s Grand Touring models get a 2.5-liter four-cylinder that makes 167 horsepower and 168 pound-feet of torque, and achieves 20/28 mpg City/Highway with the 6-speed manual and 22/29 mpg with the optional 5-speed automatic.
MazdaSpeed3 is a performance model with a 2.3-liter turbocharged four-cylinder, good for 263 horsepower and 280 pound-feet of torque. A 6-speed manual is the only available transmission. It's fun to drive, but fuel economy suffers with a mediocre 18/25 mpg City/Highway.
The Mazda3 models have nice interiors with terrific seats. Controls are intuitive and easy to reach and use. The center stack is clean, the gauges clear, and digital information accessed by a thumb scroll on the steering wheel. All Mazda3 models seat five.
The Mazda3 five-door hatchback offers a lot of cargo space, 17 cubic feet behind the rear seats, compared 11.8 cubic feet of space in the sedan's trunk. Both come with 60/40 split folding rear seats, and they fold nearly flat, so the cargo space can be expanded enormously. In a pinch, the sedan can carry most of what the hatchback can.
Ride quality is firmer on the Mazda3 than on most competitors, and could be deemed harsh by someone used to driving a Corolla. The suspension on all Mazda3 models deliver a feel that's more European than Japanese. Harsh patches and rough roads never made the ride uncomfortable, however. Mazda3 is front-wheel drive.
The Mazda3 is a great alternative for those who want a compact sedan with sporty driving dynamics. Mazda3 competes directly with Honda Civic and Toyota Corolla, Chevrolet Cruze, Hyundai Elantra. The hatchback also competes with the Ford Focus hatch or Hyundai Elantra GT. Those keen on performance might compare the Mazdaspeed3 with the Scion FR-S for track-ready fun, or the Hyundai Veloster Turbo with its funky, yet practical, hatch shape.