2013 Mazda 5 Introduction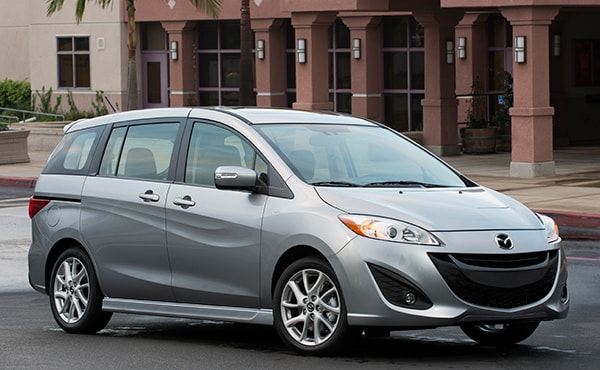 Not quite a full-fledged minivan and not quite a wagon, the Mazda5 is a small, front-wheel-drive van with sliding rear doors and space for six.
Mazda5 was completely redesigned for 2012, so changes for 2013 are minor. Among them: The 2013 Mazda5 gets some new exterior colors, and a USB/iPod connection comes standard on all models.
The design of the Mazda5 is based on the Nagare, or flow in nature, design language. Its hallmark is an upside-down pentagon grille up front and a flowing design up over the front fenders and down the sides.
With these styling cues, the Mazda 5 has a bolder and sportier look than the slab-sided approach usually reserved for minivan bodies. The body has been shaped with sculpted sheet metal and a severely laid-back windshield, with a rear roof spoiler on the Grand Touring version.
The grille, hood, fenders, lamps, bumper and front air intakes complement body-colored door handles and mirrors and taillamps. The design is not only attractive, but helps to achieve a 0.30 coefficient of drag, which is remarkably aerodynamic for a minivan, helping reduce wind noise and maximize fuel efficiency.
The interior layout of the Mazda5 is unusual in that it provides three rows of two seats each, with bucket seats in front, available captain's chairs in the second row, and a split folding bench seat in the third row, best suited for smaller children. A second-row bench seat is also available, which appears to be better for dogs or cargo than people. It's a versatile cabin, regardless of configuration. A mechanically operated liftgate makes the rear hatch easy to open.
A 2.5-liter double-overhead-cam four-cylinder engine with variable valve timing powers all Mazda5 models, giving it good low-rpm torque and high-rpm horsepower. Rated at a modest 157 horsepower and 163 foot-pounds of torque, it's the same engine found on certain Mazda3 trim levels. Transmission choices include a 6-speed manual or a 5-speed automatic.
Fuel economy ratings for the 2013 Mazda5 are 21/28 City/Highway with the manual transmission, 22/28 mpg with the automatic.
We found the Mazda 5 enjoyable to drive, with responsive acceleration performance, sharp handling, and smooth braking. Mazda's sporty suspension means there's very little body roll. Brakes are four-wheel disc for good stopping power.
This is an economy minivan with a starting price under $20,000, so don't expect a blind-spot warning system, adaptive cruise control, or any of the other higher-priced, high-technology safety gear found on more expensive cars. Nor is a built-in navigation system available; Mazda expects most buyers will opt for a portable Garmin, Magellan or other stick-on system.
There aren't any apples-to-apples competitors for the 2013 Mazda5. Minivans such as the Dodge Grand Caravan, Honda Odyssey and Toyota Sienna are larger and more expensive. Compact wagons and hatchbacks come closer in size, but lack the rear sliding doors and tend to be more expensive. Shoppers looking for utility with a smaller footprint and are willing to shell out a little more might also consider the Ford C-MAX wagon and compact SUVs such as the Honda CR-V and Toyota RAV4.