2013 Mercedes-Benz CL-Class Driving Impressions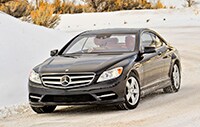 Though too large, heavy and luxurious to be called a sport coupe, the Mercedes-Benz CL-Class is swift and smooth and makes a superb grand touring luxury car for those reasons.
The CL550's 4663 cc all-aluminum V8 is velvety smooth and nearly silent, until you prod it. Even at moderate acceleration it throbs with power like a big-motor yacht prop but absent the vibration that usually goes with that sound. The CL550 V8 has more than enough oomph to get going without rotating the tachometer past 2000 revs in traffic, or to 60 mph in less than five seconds at full tilt. In most instances it starts in second gear and gas pedal response is mellow, even in sport mode, but given how hard it can smack your skull into the headrest this is probably best. The 7-speed automatic shifts imperceptibly in town, smoothly at full throttle and never gets caught in the wrong gear in traffic.
Fuel economy for the CL550 is an EPA-rated 15/24 mpg City/Highway.
If there's one word that describes the CL550 road experience, it's silken. On smooth surfaces it feels as if it's riding on glass. Some vibration or road harshness must be penetrating the hushed cabin, but it just doesn't feel like it. The sportier BMW 6 Series and Maserati GranTurismo register bumps harder and reveal surface imperfections more acutely. In the Benz, the smaller road irregularities get glossed over. Over larger bumps the ride is not quite supple, more elastic in its ability to cope with the road while maintaining comfort and control. It is not enough to inspire the driver to attack the curves in a CL550, although it can cover sweeping bends at a speed that seems mind-bending for that much weight. The rear-wheel-drive CL-Class models seem more enthusiastic in corners than does the all-wheel-drive CL550.
The steering has a ball-of-silk feel, less sharp than in the BMW and more relaxed in its responses. Though the steering effort rises with road speed, the feeling remains comfortable, smooth and luxuriously isolated rather than sports-car sharp. This is a car that works its way down a winding road with grace and stability, and the active suspension keeps it cornering quite flat. But the CL-Class doesn't communicate the sense of the road or give you the urge to get aggressive in the way great sports sedans do.
On the highway, the German DNA is fully in evidence in the CL-Class. It has a commanding, solid feel and is dead stable even at extra-legal speed. It's in these upper speed ranges that you notice that wind noise has hardly increased at all. This is Autobahn breeding at work. The all-wheel drive of the CL550 adds another layer of confidence, and as the lightest model with air springs it delivers the gentlest ride.
The CL-Class brakes feel confident, effortless and luxuriously insulated. The brake pedal action is progressive and direct. You won't find a smoother set of brakes anywhere. In hard braking the system feels powerful and was free of any fade. Decelerations from even high speed were calm, quiet and drama-free, with not a bit of vibration or noise transferred through the brake pedal or into the cabin. With the ability to gather momentum so quickly a commensurate ability to shed speed is needed and the CL-Class fulfills this wonderfully. The front discs are not only vented but cross-drilled like on race car.
Using Distronic Plus distance sensing cruise control is a leap of faith that works. This optional radar-based distance monitoring system automatically slows the CL-Class, using the brakes if necessary, as you close the gap on the car in front. That distance can be set between a hundred and several hundred feet. When the system detects the lane ahead is clear again, it accelerates back to your pre-set speed. The system works beautifully in light Interstate traffic and reasonably well in moderately denser intra-urban highway environments, though you must remain aware and ready as it can not sense cross-traffic that might run a stop sign in front of you. We recommend using it only for limited-access highways. There's more to Distronic Plus than active cruise control. The system is tied into a comprehensive in-car safety network. It will sound an alarm if the driver is gaining too fast on the car ahead, meanwhile priming the brake system to apply full emergency braking as soon as the driver even touches the brake pedal, no matter how lightly. If the driver doesn't respond to the distance alarm, the system will apply up to 40 percent of total braking capacity automatically to slow the car down.
Blind spot assistance is a system with sensors in the rear bumper that detect other vehicles approaching in those hard-to-see, over-the-shoulder-and-behind zones to either side. If you signal a lane change or begin to steer from your lane, an arrow lights up in the appropriate side mirror in colors keyed to danger level.
The parking guidance system has an enhanced function that scans the size of a parallel parking space and determines if the car will fit. Shifting into reverse activates the camera, and grid lines appear on the speedometer to help guide you into the parking space.
The night vision system actively projects infrared light from the headlamps. An infra-red camera discreetly mounted in the windshield receives the reflected images and displays them in a high-resolution display in the center instrument cluster. The result is akin to a highly detailed black-and-white video image.
Meanwhile, if a frontal crash is imminent, the Pre-Safe Brake system takes action: It tightens the front seat belts milliseconds before impact, moves the front passenger seat to its safest position, inflates pneumatic chambers in the seats, closes the side windows to add support for the side-curtain airbags (and to keep occupants' arms inside the vehicle), initiates partial braking to slow the vehicle and closes the sunroof. If you're unfortunate enough to get into an accident, there are few better places to be.
The CL600 comes with a twin-turbocharged V12 that delivers more power and even greater smoothness than the CL550. The CL600 produces 510 horsepower and 612 pound-feet of torque. This massive amount of power is the primary reason it has a 5-speed automatic: The 7-speed couldn't handle it. The V12 is so smooth and quiet in stop-and-go traffic it almost feels like the car is powered by an electric motor. Yet awe-inspiring acceleration is just a push of the pedal away: Mercedes quotes a 0-60 time of 4.5 seconds for the CL600, smack in serious sports car territory. There's so much low-end power on tap that the tires would spin wildly if not for the traction control systems working overtime. Highway acceleration feels like a DVD on fast-forward. We don't know why anyone would actually need this much power in a CL, but it is amazing to experience it. It's not about need. Nearly all of what we reported on the CL550 and its multitudinous systems is true of the CL600, which includes virtually all of them as standard.
A CL63 AMG comes with a 5.5-liter twin-turbo V8 that produces 536 horsepower at 5500 rpm and 590 pound-feet of torque at 2000. With the AMG Performance pack option output rises to 563 hp and 664 lb-ft and the 0-60 time drops one-tenth of a second, a clear indication initial acceleration is traction limited. The 7-speed multi-clutch transmission, proven in SL-Class and E-Class AMG models, offers multiple shift modes from relaxed to rifle. Massive brakes and recalibrated suspension ensure the power and speed remain controlled.
The CL65 is powered by a 6.0-liter twin-turbocharged and intercooled V12 that produces 621 horsepower and 738 pound-feet of torque, for a claimed rocket ride from 0-60 mph in just 4.2 seconds; about two seconds after an economy car reaches 60 the CL65 is already going more than twice that speed. Once moving it gathers velocity like it has five first gears, the buttery-smooth engine merely whirring away effortlessly at low revs where most sport coupes are struggling to get going.
The AMG models use the same active suspension as the CL600, but it's tuned for flatter cornering and tighter control of body motion, and stability and traction-control functions are upgraded for the additional power. A button on the center console allows the driver to choose among three different shift programs, Sport, Comfort, or Manual, that fine-tune accelerator pedal response and spring and shock absorber settings. While both CL-Class AMG models are quick and competent, the CL63 is slightly more driver-oriented than the intimidating CL65.
The AMG models also feature large composite brake discs (15.4-inch diameter in front, 14.4-inch in the rear), to slow them in a hurry, converting all that speed to heat in mere moments. Providing room for those big binders are 20-inch alloy wheels, 8.5 inches wide in front and 9.5 inches at the rear, wearing low-profile 255/35R20 front and 275/35R20 rear tires. Mercedes claims the CL65 can stop from 60 mph in 116 feet.