2013 Mercedes-Benz CL-Class Summary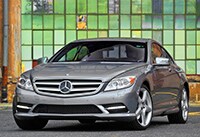 The Mercedes-Benz CL-Class is a melding of sensuous design and cosseting luxury that few other vehicles in the world can match. The CL-Class offers svelte driving dynamics and a near endless list of luxury and safety equipment. Boasting monumental power, this is a big luxury coupe loaded with technology. The CL-Class comes in a range of models offering ever higher levels of performance.
NewCarTestDrive.com correspondent G.R. Whale reported on the CL-Class from California, with John F. Katz reporting from Pennsylvania.