2013 Mercedes-Benz CLS-Class Driving Impressions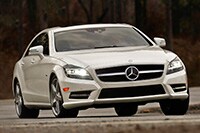 With its sleek skin, the Mercedes-Benz CLS disguises its size, but this is a big car. And it's heavy. Although the 4MATIC all-wheel drive is one of the lightest in the business, curb weight of the CLS550 is north of two tons: 4265 pounds.
The pneumatic suspension handles the weight remarkably well, snubbing up and down body motions and keeping the car level during hard cornering. The electro-hydraulic power rack and pinion steering is accurate, and nicely weighted, though some may find the level of effort a smidge high. And there's no shortage of grip. Even though the standard tires are all-season (as distinct from summer performance), the CLS550 inspires confidence in high speed corners, and is devoid of surprises.
On the other hand, the CLS550 is no wraith, and in brisk driving on twisty back roads the driver is always conscious of the car's bulk. Quick changes in direction would be a lot quicker if it weighed about 500 pounds less.
It would be quicker going straight ahead, too, but even so the CLS550 more than holds its own. The twin-turbo 4.7-liter V8 generates big-time torque (443 pound-feet) and it peaks just off idle, 1800 rpm, and stays peaked all the way to 4750 rpm. Throttle response is right now, not even a hint of turbo lag, and all that thrust, plus all-wheel drive, add up to very brisk acceleration, just over four seconds to 60 mph, and a quarter-mile in about 12 seconds flat.
Mercedes lists top speed as 186 mph, whereupon a governor cuts in. We can neither confirm nor deny this claim, though based on our driving it seems wholly plausible. We can confirm, though, that at full throttle the V8 squashes occupants into their beautifully upholstered multi-adjustable seats with satisfying authority.
We should add at this point that if your need for speed exceeds the robust capabilities of the CLS550, another $21,400 will put you in a CLS63 AMG, which brings 518 horsepower and 516 pound-feet of torque to the party (550 hp, 590 lb-ft with the optional performance pack).
Whether the going is leisurely or in haste, the CLS is a very pleasant place to be as the miles accumulate. Ride quality is autobahn firm, but the air suspension irons the edge off gnarly pavement, the sound system is orchestral, and the cabin is otherwise quiet, save for the refined rumble of that twin-turbo V8, sotto voce, lowering the driver's inhibitions, tempting the driver's right foot.
And when a quick stop is required, the brake system is more than equal to the task, providing sports car braking power and stopping distances.
Fuel economy for the 2013 CLS550 is an EPA-estimated 17/25 mpg City/Highway, while the CLS550 4MATIC is rated 16/25 mpg. Impressively, the CLS63 AMG is rated 16/25 mpg.