2013 Mercedes-Benz CLS-Class Summary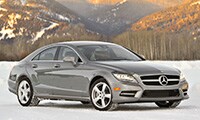 The Mercedes-Benz CLS is no longer the only car calling itself a four-door coupe, and has inspired direct competition from Audi's A7. But the second generation continues to be a one of the slickest luxury four-doors going, as well as one of the most potent. Driven hard, the twin turbo V8 can be thirsty, but the CLS escapes gas guzzler taxes, even in AMG tune. Whether you accept the four-door coupe business or not (as an aside, a wagon version has been added to the lineup in Europe; hard to think of THAT as a coupe), this is arguably the most stylish sedan in the Mercedes lineup, a powerful pleasure in everyday motoring, and still a head-turner wherever it goes.
Tony Swan filed this NewCarTestDrive.com report after his test drive of the CLS550 near Detroit.