2013 Mercedes-Benz CLS-Class Walk Around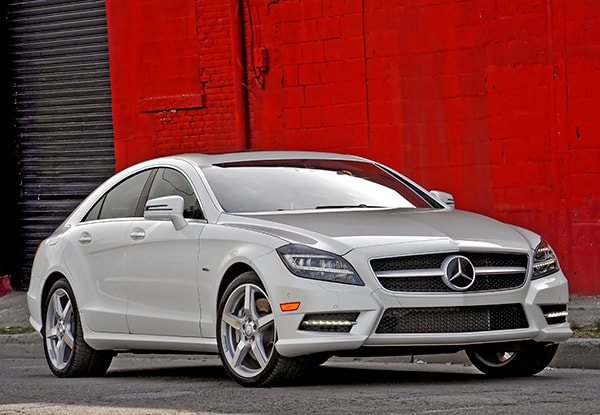 Launched as a 2012 model, this latest-generation CLS is bigger than the original. At 113.2, inches, the wheelbase has stretched by almost an inch, and overall length, 194.5 inches, has grown 1.5 inches. Wide to start with (73.7 inches), it's even wider now (74.1), and the roof, 55.8 inches at its height, adds 1.1 inches. Front and rear track has expanded correspondingly.
Those are all significant expansions, but the design team preserved the car's proportions, including the fast rear roofline that gives the CLS its coupe profile. Flared wheel arches and pronounced body side character creases give the second generation car a more muscular look, and LED headlamps light the way.
Mercedes calls the headlamps an industry first, by virtue of two features: Active Curve Illumination, which varies the beam to provide optimal lighting on twisty night roads, and Active High Beam Assist, which functions as its name suggests to help avoid blinding other drivers.
Interior
No Mercedes interior can be called Spartan, particularly at this price level, but this second generation CLS represents an uptick on the elegance meter, with new materials, new trim, and the second generation of Mercedes mbrace connectivity feature called, appropriately enough, mbrace2. Among other functions, mbrace2 provides access to internet browsing, Google Search, Facebook, Yelp, and news programming via the new MB Apps feature.
Most visible among the updated interior elements is the cabin trim, which replaces the previous matte finish wood with a choice of three materials: traditional Mercedes high gloss wood, piano black, or carbon fiber.
Mercedes has gone to a column shifter, freeing space in the center console. However, the new setup offers only basic PRND gear selections, and paddle shifters are conspicuous by their absence.
One other interior note: although the steep slope of the rear roofline still means that front seat passengers have more air over their hairdos than those in back, there's a little more rear headroom than in the first generation.