2013 Mercedes-Benz E-Class Summary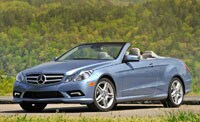 Few automobiles deliver as satisfying a mix of passenger space, luxury, style, and performance in a vault-solid, practical package as the 2013 Mercedes-Benz E-Class. From convertible to wagon, there's an E-Class variant for nearly every taste, an available high-mileage diesel engine or an ultra-performance, 516-hp V8, and optional 4MATIC all-wheel drive for drivers who can use it. Mercedes-Benz also claims the E-Class is the safest car of its type ever built. Based on all the standard safety equipment that's built in, that's likely true.
NewCarTestDrive.com correspondent Jim McCraw reported from Madrid, Spain, with J.P. Vettraino reporting from Detroit, Mitch McCullough in Los Angeles, Sam Moses in Portland, and Kirk Bell in Jackson Hole, Wyoming. John F. Katz also contributed.