2013 Mercedes-Benz GLK-Class Introduction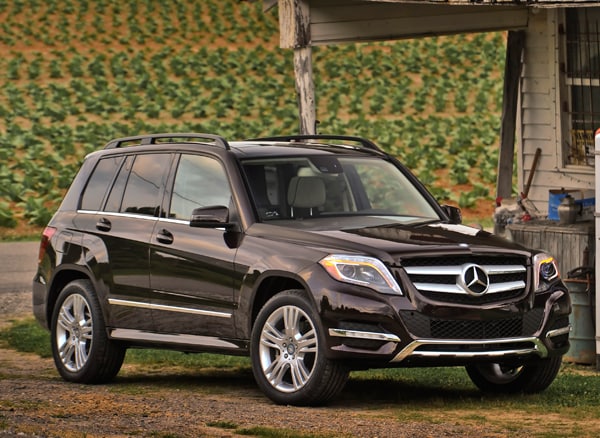 The Mercedes-Benz GLK has been thoroughly revised for the 2013 model year. The 2013 Mercedes-Benz GLK350 and the new GLK250 BlueTEC feature fresh styling and redesigned cabins with the latest technology, and each boasts new engines.
The 2013 GLK350 comes with a redesigned 3.5-liter V6 engine with the latest-generation direct fuel injection (which replaces the conventional port injection). Engine output increases by 34 horsepower and torque by 15 pound-feet. EPA fuel economy ratings have been improved with the addition of a start/stop function that shuts the engine off when the car is stopped.
The 3.5-liter V6 in the 2013 GLK350 is rated at 268 horsepower at 6000 rpm, 258 pound-feet of torque from 2000-5000 rpm. The U.S. Environmental Protection Agency rates the 2013 GLK350 at 16/22 miles per gallon City/Highway. Premium unleaded gasoline is required. Rear-wheel drive (2WD) is standard, 4MATIC all-wheel drive is optional.
We found the new GLK350 delightful to drive. It's quick, capable of accelerating from 0-60 mph in just 6.4 seconds, which is impressive performance, and we found it stable at 95 miles per hour. Handling is crisp and responsive on winding roads, while on the highway it's quiet and comfortable. We felt no fatigue in five hours of driving.
The 2013 GLK250 BlueTEC is a new model that features a four-cylinder diesel engine designed to meet strict Bin 5 U.S. emissions regulations. The 2.2-liter turbocharged diesel is rated 190 hp at 4200 rpm, 369 lb-ft of torque from 1600-1800 rpm. The GLK250 comes standard with 4MATIC all-wheel drive. The GLK250 BlueTEC is expected to go on sale in early 2013, and pricing and fuel economy ratings will be available then.
The 2013 GLK are good-looking SUVs. The revised styling presents a more athletic appearance than before. Its lines are more angular, intended to share the design language of the new 2013 GL-Class full-size SUV. The new styling doesn't attract much attention and people don't seem to see it as a new design, but it's a handsome mid-cycle update and owners will likely not tire of looking at it.
Inside is a more attractive, more functional cabin than what's found in pre-2013 models. The new dash looks more elegant, more upscale than before. Big round air vents have been modernized and are easy to aim. New connectivity features have been designed with the goal of helping us simplify our lives. We found the standard vinyl upholstery nice, it was hard to tell it wasn't leather. The driver's seat was comfortable. The rear seats were comfortable for two adults, and a nicely trimmed cargo compartment opens up to a nearly flat space when the rear seatbacks are flipped down.
The Mercedes-Benz GLK competes primarily with the BMW X3 and Acura RDX (all-new for 2013).