2013 Mercedes-Benz SL550 Introduction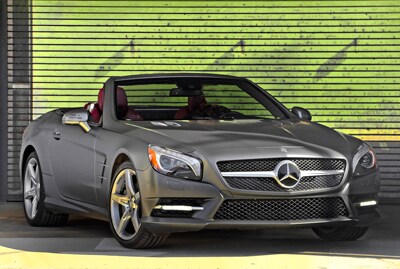 The Mercedes-Benz SL550 is a two-seat, rear-wheel-drive roadster with a convertible hardtop, and it's all-new for 2013. The SL-Class is redesigned for 2013 with new styling, and the models are lighter, thanks to a mostly aluminum structure. A reduction in weight is appropriate as SL initially meant "super light."
The 2013 SL550 debuts with a new more powerful engine. The 2013 SL550's new engine is a twin-turbocharged 4.6-liter V8 that makes more power and gets better fuel economy than the outgoing 5.5-liter V8. It's mated to a 7-speed automatic transmission.
A new SL63 AMG and SL65 AMG are scheduled to come later in the 2013 model year. The SL63 will feature a new twin-turbocharged 5.5-liter V8 and the SL65 will come with a twin-turbocharged 6.0-liter V12. The SL65 AMG gets a 7-speed automatic, while the SL63 will have a 7-speed automated manual transmission that Mercedes calls the AMG Speedshift MCT 7.
We have driven the 2013 SL550, and its new engine is a revelation. Its new twin-turbocharged 4.6-liter V8 has almost as much torque as the 5.5-liter twin-turbocharged V8 to come in the SL63 AMG. The SL550 is quick, makes great noise, and its improved fuel economy eliminates last year's gas guzzler tax. The 7-speed automatic transmission is smooth but not as lightning quick as the dual-clutch automated manuals offered by the competition. We'd like to see a manual transmission but aren't expecting that to happen.
The lighter weight improves handling, but the SL550 is still more of a grand tourer than a pure sports car. That's not necessarily a bad thing because its relaxed, refined character makes it easy to live with on a daily basis. The handling is agile with either of the car's two suspensions, the brakes are strong. The steering feels numb but it has a variable ratio that makes it quick when turned farther off center.
Inside, the SL-Class is model of modern luxury. The decor is classy, fit and finish is exemplary, and Mercedes makes plenty of features standard while offering several more. Its two seats are upholstered in leather, and they have a minimum of 12 adjustments, which should make anyone comfortable. Available massaging seats with active bolsters are practically indulgent.
A few special features make the convertible experience even more special. AirScarf heating blows warm air onto the necks of occupants to extend the top-down driving season. The top itself goes up or down in 20 seconds and, as a hardtop, is substantial enough to shut out the elements and keep the cabin quiet. Mercedes also adds its Magic Sky Control roof for 2013. A panoramic roof is standard with one level of tint (about 80 percent). Magic Sky Control adds a 95 percent tint option to keep the cabin cooler on sunny days.
A navigation system is standard, and so is a high-quality sound system with unique speakers located in the front footwells that use the chassis subframe as an echo chamber. The radio comes with a six-disc CD changer and a four-gigabyte hard drive to hold music files.
The trunk has a decent 10.2 cubic feet of storage space with the top up, and that shrinks to 7.2 cubic feet with the top down, but it should still be enough room for two seats of golf clubs.
Clearly not practical for a family, the new SL550 is fast and sporty though not as sharp-edged as a Porsche 911. It's more of a relaxed sports car that will be easy to live with every day.