2013 Mini Cooper Introduction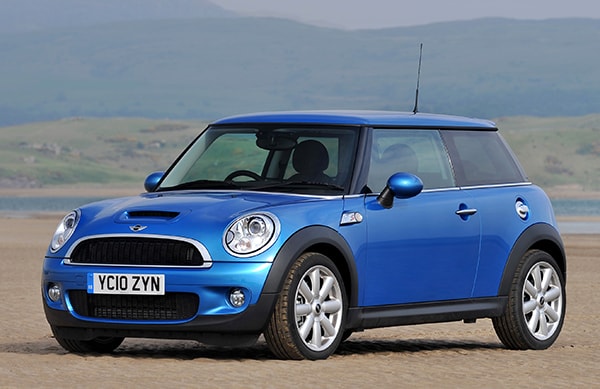 The 2013 Mini Cooper hardtop is the original Mini model. Now available in both hardtop and convertible variants, the Mini Cooper delivers agile handling, crisp performance and an interminably cute appearance in a tidy, efficient, front-wheel drive package, with plenty of space and comfort for front seat passengers.
2013 Mini Cooper models get Bluetooth handsfree connectivity and a USB port as standard equipment. Satellite radio is an option on all 2013 models, and the high-performance John Cooper Works model is now available with a 6-speed automatic transmission.
All Mini Cooper hardtops and convertibles are powered by a 1.6-liter four-cylinder engine available in three levels of power output, and are available with a six-speed manual or six-speed automatic transmission. Premium gasoline is required on all models.
Base Mini Coopers make 121 horsepower and 114 pound-feet of torque. Acceleration performance isn't quick, but it's adequate. We think this engine works best with the manual transmission, which adds to the sportiness. The Mini Cooper delivers excellent fuel economy, earning an EPA rating of 29/37 mpg City/Highway with the stick, and 28/36 mpg City/Highway with the automatic.
Mini Cooper S models come with a turbocharged version of the same engine that generates a more substantial 181 horsepower and 177 pound-feet of torque. Despite the increase in performance, fuel economy is still very good, with an EPA-estimated 27/35 mpg City/Highway with the manual and 26/34 mpg City/Highway with the automatic.
John Cooper Works models play on the brand's heritage, and are named for the multiple rally and touring-car racing champion in the 1960s. They use the same turbocharged engine as the S, and are tuned for even more power. JCW models use an ultra-firm suspension and churn out 208 hp and 192 lb.-ft. of torque, making for one of the best power-to-weight ratios on the market. Surprisingly, though, fuel economy remains the same as the S, with 26/35 mpg City/Highway with the manual and 26/24 mpg City/Highway with the newly available automatic.
The Mini Cooper Hardtop is quite practical when viewed as a two-seat car with good rear cargo capacity. The front seats are very comfortable and supportive, and they are large enough to accommodate all sizes of drivers and front passengers. With its hatchback and folding rear seats, the Hardtop can haul reasonable amounts of gear. Although the back seat can carry two people, it's hard to climb into and offers very limited legroom. The back seats are best left for small children or, better yet, stuff.
A wide range of styling options allows owners to personalize their cars, and it's a major part of Mini's appeal. The choices cover upholstery style, material and color; exterior graphics; trim pieces; ambient lighting; and exterior paint, including contrasting colors for the roof. Functional options include high-end features like adaptive Xenon headlights, rear obstacle warning and a navigation system.
Minis have a price premium over other compacts, and options can add up quickly. But fans don't seem to mind, and Mini has developed quite a cult following. It's perhaps no surprise, considering Mini's distinctive looks, signature go-kart handling and its BMW-sourced engineering.
Those looking for a small car with head-turning design might also consider the equally charming but less expensive and less powerful Fiat 500 coupe or convertible or the Hyundai Veloster. Performance seekers might also consider the Fiat 500 Abarth or Hyundai Veloster Turbo.