2013 Mini Countryman Introduction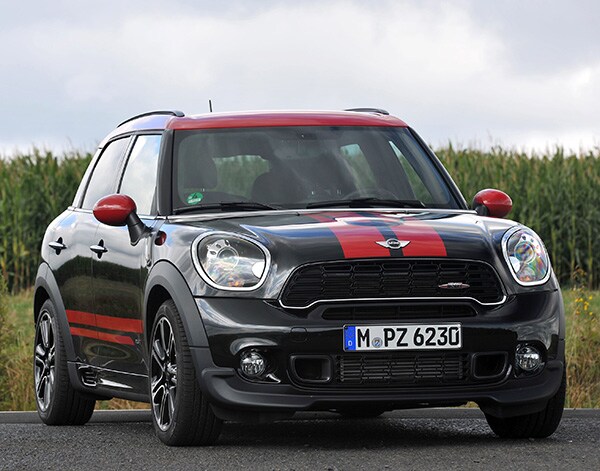 The Mini Cooper Countryman is the practical Mini. It features functionality with four doors, comfortable room for two people in back, and is available with all-wheel drive.
Countryman was all new for 2011 and has been changed little since. For 2013, Bluetooth comes standard on all models. The 2013 Countryman lineup also gains a new John Cooper Works (JCW) version, which is Mini's high-performance line. The 2013 Countryman JCW features all-wheel drive, a more powerful engine, a sport-tuned suspension, and additional body trim, as well as standard 18-inch wheels. It also comes with a more than $7,000 price premium over the standard AWD Countryman.
The Countryman retains the look and fuel economy that have established Mini as a premium brand among small cars while offering real space for four adults and substantially more cargo volume than the other Minis. With perhaps the exception of the new JCW model, the Countryman isn't as responsive as the smaller, sportier Minis, but it's good fun to drive and more engaging than other vehicles in its class. It's also more comfortable than other Minis. Ride quality on the Countryman S model is quite firm, however.
While the taller, larger Countryman looks a bit different than other Minis, it's based on the same underpinnings and uses the same engines. The base model is powered by a 1.6-liter inline four-cylinder engine that makes 121 horsepower and 114 pound-feet of torque. A 6-speed manual transmission comes standard, and a 6-speed automatic is optional. This little powerplant is frugal and adequate with either gearbox. Front-wheel drive is the only option with this engine.
The Countryman S uses a turbocharged version of the same 1.6-liter engine, which bumps up output to 181 hp and 177 lb.-ft. of torque. Gearbox choices are the same as the base. All-wheel drive is optional. With more horsepower and torque over a broader range, the Countryman S is responsive around town and more entertaining.
The new John Cooper Works model uses a new, BMW-developed twin-scroll turbocharged 1.6-liter four-cylinder engine. It uses direct injection and variable valve management and outs out 208 hp, 192 lb.-ft. of torque, available between 1850 and 5600 rpm.
Fuel economy ratings for the 2013 Mini Countryman range from an EPA-rated 27/35 mpg City/Highway for the base engine with manual to 24/31 mpg for the turbo with all-wheel drive and automatic. Although the JCW model is more powerful, its it's also slightly more efficient than the regular turbocharged AWD model, with an EPA-estimated 25/31 mpg.
Although most Mini Cooper models claim to seat four, tiny back seats prevent most adults from riding in the rear. The Countryman, on the other hand, is a truly realistic four-passenger car, with a pair of bucket seats in back. It has four traditional side doors, so it's easier to get in or to load kids inside. It delivers 41 cubic feet of cargo space behind the front seats, with a third of that in the deep trunk with all seats in place. Countryman lacks the cargo space of a compact utility vehicle, however, and the space over the folded pair of rear bucket seats isn't as useful as it is in SUVs with folding rear bench seats. The interior treatment is similar to that in other Mini Coopers. Recurring styling themes, unusual controls and stylized instruments highlight the cabin.
Many Mini owners choose the brand for its personality and looks, not necessarily for its practicality. But those looking for functionality over form might also consider small wagons and crossovers like the Ford Escape, Honda CR-V or Kia Soul. On the premium side, the BMW X1 and Range Rover Evoque have about the same footprint with more power and cargo space.